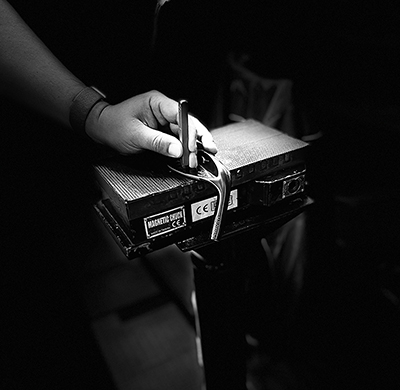 Cool Clubs Custom Design Studio
The Custom Design Studio at Cool Clubs has the capability to transform your short game clubs into distinctive and personalized works of art.  Through various grinds, finishes, stampings, paint fills and artistic customization, we can create clubs that are as unique as you are.
If you are interested in customizing your clubs or have more questions, please click here to email our head of Custom Design, Delfino Alvarez. He will contact you to discuss your design ideas and provide you a quote. [email protected].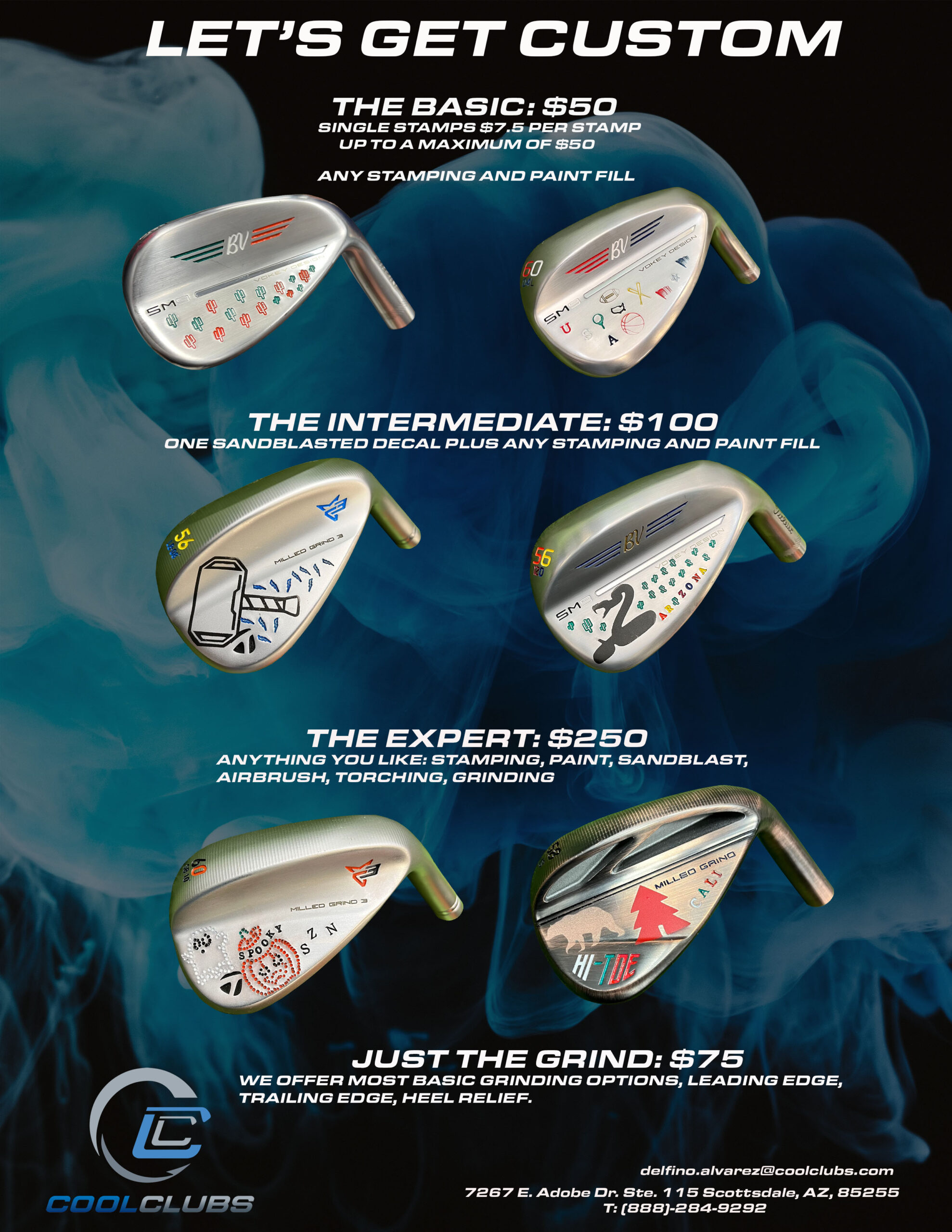 Avengers Wedge
Our Tribute to the Marvel Universe. This technique uses a blue 'vinyl sticker' for The Avengers logo, the stars are hand stamped and custom painted to represent the six Infinity Stones:
Blue Stone- Space
Red Stone- Reality
Purple Stone- Power
Yellow Stone- Mind
Green Stone- Time
Orange Stone- Soul

Arizona Rattlesnake
The Titleist wings, BV logo and loft numbers have been painted to represent the Arizona flag colors. The cacti have been stamped and filled with green paint. The rattlesnake was created with our sandblasting technique. A stencil is designed and used to target the area for sandblast. This process is followed by airbrush with black paint. It takes 24 hours for the paint to dry, and some designs will require multiple coats of paint.

The Cactus Wedge
Large and small cactus hand stamps cover the wedge's usable space in random order. Hand painted in Green and Orange at the customer's personal request.

Pumpkin Ghost Wedge
This is one of my favorite techniques, it requires a lot of patience. We call it 'Dot Stamping'. Using a stencil, hammer and a sharp 1mm punch. Every dot requires precision depth to hold paint, but not blur the design, or damage the structure of the wedge. Think of this design as a tattoo, we can create many styles, the more intricate the image the more time it will take.

Cardinal Wedge
Another example of our sandblasting technique. The Cardinal is stenciled out and blasted, 'RISE UP RED SEA' is then hand stamped onto the remaining usable space in honor of our home town Red Birds.

USA Sports
Red, White and Blue paint fill across the wedge to celebrate the USA! This wedge is specifically designed to show off all of the variations of hand stamps we have here in our custom shop. Featured stamps: Letters U.S.A, Baseball, Basketball, Football, Golf Ball & Tee, The North American Continent plus our Stars and Stripes.

Spiderman
Our favorite superhero. The custom web and spider are stenciled and sandblasted to fit this specific wedge shape; this is demonstrated by the web wrapping around the hosel of the club and covering some of the wedges bounce area. "SPIDEY SENSE" is hand stamped and highlighted with white paint fill.

Venom
One of the simplest but boldest wedges we have designed. A stenciled and sandblasted custom spider. The letters are hand stamped in what is called "dancing style". We offer various ways to arrange your lettering at customer request.

THE BOMBS!!
We blew this wedge up with our custom hand stamped bombs and stars. This customer loves his steelers so we filled everything with Black and Yellow paint. BOOM!!!!

Iron Man
The man that started it all… Tony Stark's Iron Man. Without Iron Man we probably do not get the Marvel Cinematic Universe!!! For this design we sandblasted the helmet first, this was one of our more complex designs due to the slim lines, we also had to use two different stencils after sandblasting in order to get the helmet colors separate. Red and Gold for paint fill represent his armor, and Black for the hand stamped bombs!

Penguin
This design uses two different colored vinyl stickers two create the penguin. After applying the vinyl, we spray it with a chemical that helps keep the vinyl sticker on the wedge.

Presidents Cup Wedge
This was our September 2022 giveaway wedge in honor of Team USA winning the Presidents Cup… again! We designed our own Red, White and Blue wedge with a "Custom Rusted Cup". Hand stamped stars to represent the United States, our custom map hand stamp in the center, followed up with a sandblasted stencil in the shape of the cup. We produce the rust with a special chemical concentrated specifically on the area we want to rust after sandblast. Please note that this rust technique will vary in time depending on size and density of the desired rusted area.

Thor Wedge
By far my favorite design and one for my own personal collection.  Mjölnir, The God of Thunder's Hammer!  Sandblasted the hammer with a stencil vinyl cut, then used black paint with airbrush. Painted over with a Matter Coat finish. Used thunder bolt stamps and chose the powder blue and yellow colors for paint fill to show love for my Los Angeles Chargers!!

Baby Vitals
This wedge is dedicated to our head of custom design studio Delfino Alvarez's first born child. He wanted to always remember his child when he was on the course and what better way than to have the baby's first born measurements on the wedge. This combined with an image of the baby's first gift from his grandmother (a pacifier) made the wedge complete. A combination of stamping, paint fill and airbrush.

Half Sun and Cacti
This is for one of Cool Club's female customers. She wanted to show her love for Arizona with the blend of sun and cacti. The half sun is a custom design to still show off the Mizuno brand's logo. A combination of vinyl, sandblast and airbrush.

California Bear
This one-off California bear and state flag colors is heading to the West Coast, it includes Stanford Cardinals red on the custom designed tree. A combination of stamping, sandblast and airbrush.
Delfino Alvarez
Delfino joined Cool Clubs in the fall of 2020 as a Master Club Builder and he quickly became interested in the custom side of the business. His creativity and fine attention to detail allows him to create stunning individualized works of art. Through experimenting with different processes, he has created his own niche in the custom golf club world.
Before joining us he was an Assistant Golf Professional in Northern California at Elkhorn Golf Club and Discovery Bay Country Club. Originally from Tamazula, Mexico, he played professional soccer growing up until he made the switch to golf.
If you're looking for a golf club in your bag that is going to turn heads, reach out to Delfino with your ideas, we are sure the collaboration will produce something special and unique to you!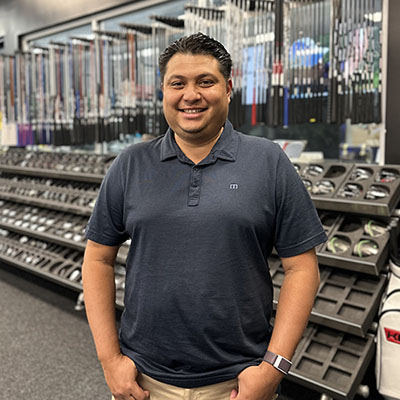 ---
Book your custom club fitting online today. Questions? Give us a call and speak to a fitting professional.
Book a Fitting