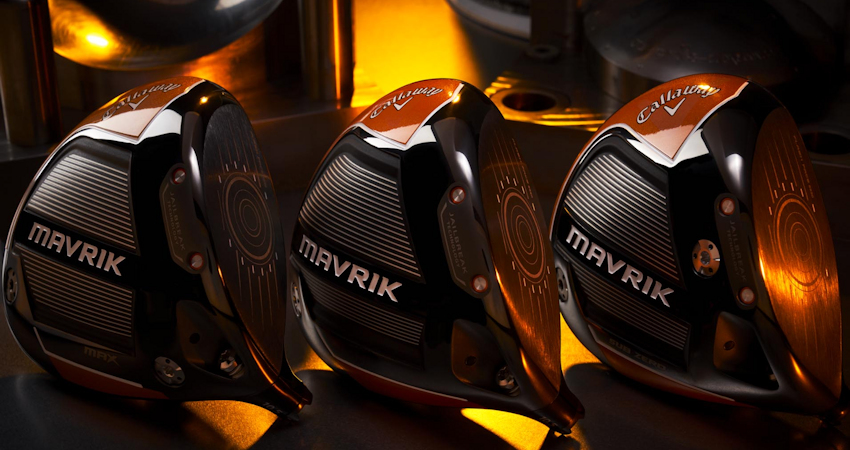 Cool Clubs | First Take
From what we're seeing here at Cool Clubs during initial testing, Callaway's MAVRIK line provides slightly higher ball speeds than competitors. The biggest improvement Callaway made over last year is the impact sound – a big knock on last year's FLASH – which has returned to a traditional sound as opposed to the flat thud of last year's model. The orange color isn't for everybody, but Callaway does provide 'custom' color options so players may choose whatever color combinations they want. The Sub Zero will certainly be more appealing to the eye for the better players, given the classic pear shape. The MAVRIK MAX with a draw bias will be a great option to those fighting the 'slice'.
Bottom line: MAVRIK will be one of the top choices for all Cool Clubs customers regardless of skill level. Feel and sound are much improved over last year's Epic Flash.
---
Touted as their fastest driver ever and fueled by artificial intelligence, Callaway's new MAVRIK line promises faster ball speeds across the entire face on all three iterations of the new line: MAVRIK Standard, Sub Zero and MAX. The new, A.I. designed Flash Face SS20 promotes fast ball speeds across a more expansive area in each model and loft, with a high-strength FS2S titanium face coming in at six grams lighter than traditional titanium for optimal speed and forgiveness.
Back again is Callaway's Jailbreak + T2C Triaxial Carbon Crown Technology with two internal Jailbreak bars which connect the sole and crown increasing ball speed and the significantly lighter carbon crown redistributes weight for higher MOI (moment of inertia).
MAVRIK Standard
Aside from the new Flash Face SS20, also new in the MAVRIK Standard driver from Callaway is the Cyclone Aero Shape which enhances aerodynamics, reducing drag and increasing clubhead speed.
MAVRIK Sub Zero
Bringing together a combination of low spin and high MOI, the MAVRIK Sub Zero features everything available in the MAVRIK Standard with in a slightly smaller 450cc head with two interchangeable weights in the front and back (14g and 2g) to promote changes to launch angle and spin rate.
MAVRIK MAX
Callaway proclaims their MAVRIK Max is their easiest of the line to hit featuring two interchangeable weights just like the Sub Zero designed for MAX forgiveness or MAX draw configuration.
Color and Customization
With three different customization zones and 12 color options, there are more than 1,400 color permutations to make any MAVRIK driver fit your personal style. A definite plus. Additionally, each custom MAVRIK driver – regardless of which iteration you choose – comes with a unique Callaway Customs headcover featuring a quilted bottom and plush internal lining.
Book your Cool Clubs fitting for Callaway's entire MAVRIK club line
Book a Fitting