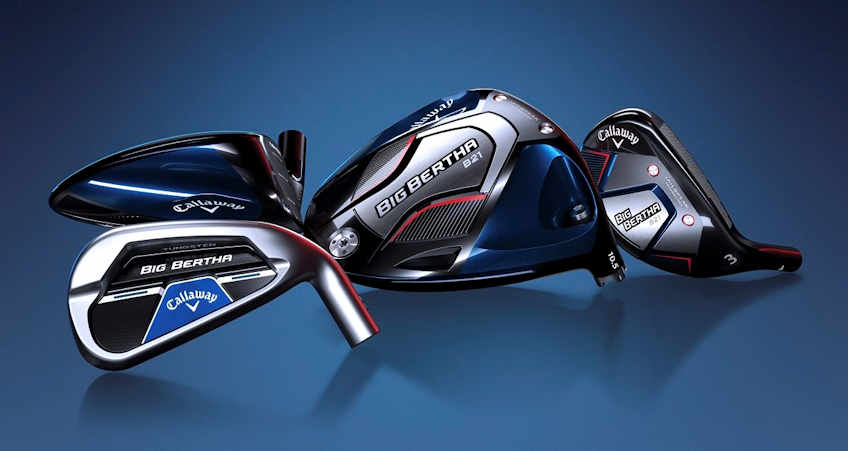 Nearly three decades have passed since Callaway changed the game of golf as we know it by introducing its first iteration of the Big Bertha Driver in 1991. The aptly named "howitzer" metal wood was the first of its kind, and at 190 cubic centimeters and crafted entirely of stainless steel, the club looked absolutely gargantuan at address and was a far departure from the old persimmon woods of years past.
How about an "Epic" flash-forward to 2020 where Callaway has rolled out its newest version of the game-changing line, and while Callaway doesn't plan on introducing any outlandish changes or non-USGA-conforming golf clubs this time around, they still boast the brand-new Big Bertha B21 line will provide more distance, better forgiveness and Jailbreak speed.
The new Big Bertha line will be available for club fitting soon at Cool Clubs locations throughout the world. Stay tuned for additional updates and a Cool Clubs "First Take" on Callaway's B21 driver, fairway woods, hybrids and irons. In the meantime, here are a few features and specs from Callaway to wet your whistle.
New Callaway Lineup
Big Bertha B21 Driver
Big Bertha B21 is built for golfers who want to hit their drives farther, and straighter so that their ball finds the fairway. It's especially suited for players who hit a slice or struggle to find a consistent ball flight, with advanced technologies that make this driver really long, forgiving, and easy to hit.
Big Bertha B21 Fairway Woods
Callaway's easiest to launch fairway wood promotes more distance, more consistent contact and smoother turf interaction. With iconic Big Bertha shaping and increased offset, this forgiving design helps to take the slice or big miss out of your game.
Big Bertha B21 Hybrids
Built to unlock your distance with a total forgiveness package. This is the Company's easiest to launch hybrid with a larger head volume, and it's designed to help get rid of the big miss that spins off line. Fast ball speeds are led by an A.I. designed Flash Face SS21 and Jailbreak. The offset is increased for a straighter ball flight, and to enhance launch and trajectory, dual MIM'ed (Metal-Injected Molding) Tungsten weights are precisely placed into the sole of the clubhead.
Big Bertha B21 Irons
Designed with Big Bertha shaping to deliver a new formula for distance and forgiveness. This is the first time that an A.I. designed Flash Face Cup is in a Big Bertha Iron. The unique Flash Face architecture in each iron creates high ball speeds and increased spin robustness for every club in the set. A new Visible Tungsten Energy Core (VTEC) deepens the CG for incredibly easy launch, and patented urethane microspheres provide pure feel. In short, you're getting iconic shaping and incredible ball speed technologies.
Book your Cool Clubs Fitting Today
Book a Fitting