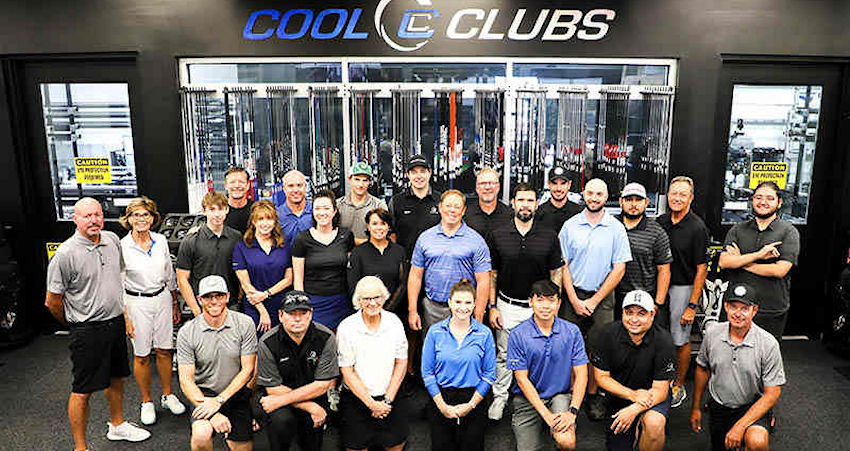 Today marks the 14th anniversary of Cool Clubs opening its doors in Scottsdale, Arizona – the flagship location and headquarters of the world's largest independent clubfitting company. A lot has changed over that time, especially in the golf industry. Back when Cool Clubs first opened its doors in 2007, a few of the top-selling drivers of the year like the Callaway Fusion FTi, Nike SQ Sumo2 and Adams InSight XTD all featured square clubhead design – an idea that didn't last very long. European 2021 Ryder Cup Captain Padraig Harrington held off Sergio Garcia in a playoff to take home the Claret Jug at Carnoustie. Hybrid golf clubs were entering the modern game with at least 30 percent of amateur players having at least one in the bag. And buying golf clubs was a lot like purchasing a mail-order suit – just hope it fits when it's delivered. That's not the case now.
Today, Cool Clubs has 25 locations on five continents, exclusive access to the world's largest golf shaft database used by the top golf club and shaft manufacturers, and a proverbial army of world-class Master Fitters and Builders. And golfers of all abilities and styles around the world know if they want to Play Better Golf℠, they come to Cool Clubs.
Here is some insight from Cool Clubs CEO Mark Timms into what Cool Clubs was like back in the early days and some of the changes that have happened over 14 years of clubfitting excellence.
Q. What was Cool Clubs like back in 2007 and how has the business changed?
A. "There are considerably more shaft options than before due to universal connectors across all the manufacturers. Originally, Cool Clubs had a set of shafts for TaylorMade, a set for Titleist, a set for PING, Callaway, Cobra, etc. Now, we have many more shafts interchangeable across all manufacturers allowing us to be exceptionally precise with our fittings. And back in 2007, Cool Clubs had one location. Now there are 25 across the globe."
Q. Specifically in regard to technology, how has Cool Clubs changed and adapted since 2007?
A. "Today, there are way more data points for analysis during the fitting and building process. We used to have about eight or nine data points, but now we gather data from 19 different categories. Also, our fitting software is constantly refined and updated because each fitting at each location is entered into our global database which we use to make improvements. Combine that with our industry leading shaft testing equipment and we have more information than ever before to ensure a proper fitting."
Q. Why has Cool Clubs succeeded in being the industry leader in custom clubfitting?
A. "It's the people! We have the most dedicated, engaged and knowledgeable fitters in the industry and they all love what they do. Our builders have the greatest depth and breadth of knowledge of any build team in the country. Add in our passionate and committed customer service staff and we have a well-rounded, winning team. The Cool Clubs staff regularly interact with each other too. Occasionally fitting or building challenges crop up and they work together to solve any problems or find solutions to unique situations. Also, clubs for all customers (domestic and international) are built at our shop in Scottsdale. This allows for consistency from set to set as well as within each set of clubs."
Q. What industry trends have changed over the years for manufacturers?
A. "The biggest change is manufacturers now embrace custom fitters and realize custom fitters enhance the performance of their products. There are also more loft options available in equipment than there used to be. For quite a while only 3 woods, 5 woods, and 7 woods were available. Now many OEM's carry 4 woods and 9 woods. Also, today hybrids have a much bigger gamut of lofts running from 17 degrees all the way up to 32 degrees. There are even hybrids now that are designed for the Pro with the higher skill set and faster swing speed and another model for the amateur who might be a higher handicap player with a slower swing speed. Another big change is how much stronger the lofts have gotten in irons. Conventional 4 irons are about the same loft as a current 6 iron. The club engineers have figured out how use new materials and modify the design to launch and spin stronger lofted irons and make then easier to hit and more forgiving than they used to be."
---
Let Cool Clubs Fitting Experts Help You Play Better Golf℠
Book a Fitting Today