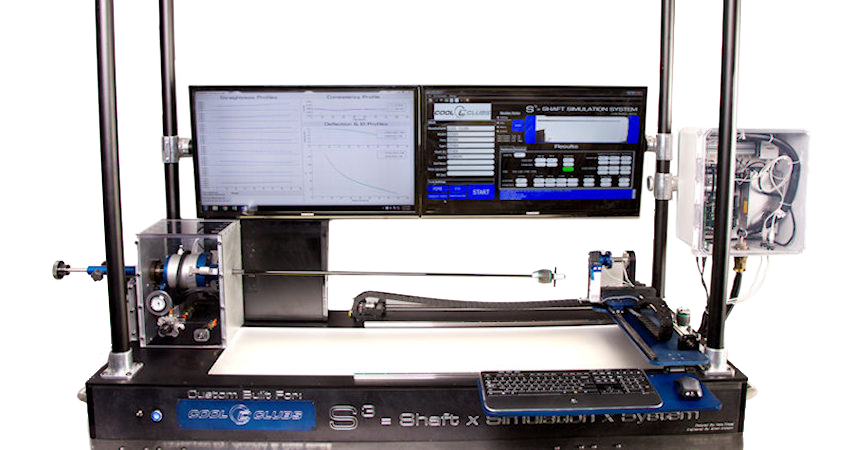 At Cool Clubs, we work with high handicaps, low handicaps, scratch players, hackers, juniors, TOUR professionals and everyone in between. And while the skill level of our customers varies wildly, there's a common theme between just about everyone that walks through our doors – they have a favorite club in their bag, and they have a club they tend to leave in their bag. There's a reason for that. A consistent golf swing with inconsistent golf shafts produces undesired results.
Consider this a crash course in golf shafts – the engine of the golf club – from a Cool Clubs Master Fitter and why we dive deeper than just off-the-rack shaft flex to include golf shaft frequency, a much more detailed way to measure golf-shaft stiffness.
"The first thing I ask everyone that comes into Scottsdale HQ for the first time is 'are you familiar with shaft frequency" said Justin Nelson, Master Fitter at Cool Clubs. "Of course, everyone says 'no' and I'll explain it's what we use at Cool Clubs to tell you how stiff your golf clubs are."
Most golfers have heard of the standard "flex" of the golf shafts they buy off the rack, such as Women's, Senior, Regular, Stiff or X-Stiff. What's the difference?
Why Frequency Matters
Cool Clubs measures frequency — and a host of other variables — through our industry-leading S3 Technology (learn more about S3 here) instead of relying on the catch-all term "flex" to gather precise data that is not available anywhere else. Instead of using "flex" in our calculus, Cool Clubs measures golf shaft frequency using CPM (cycles per minute) based on the length of the shaft in inches. This allows us to match a golf shaft to specific players based on tempo, swing speed, swing path, strength, playing style and much more.
Manufacturers build golf clubs for an extremely wide range of people because they build them in huge numbers. They don't have the luxury of manufacturing golf clubs to specific players, so they build golf clubs for the most common range of players. Let's take Regular Flex – they manufacture shafts on the stiff end of regular and the soft end of regular. Same thing with senior flex and stiff flex. So any two clubs – even with the same flex – could play very differently whether you got it from the back of the rack or the front of the rack.
"If you went to a big-box sporting goods store and tested a 'regular' shaft driver off the rack and loved it, there's no guarantee the club they hand you in the box is going to perform the same way," said Nelson. "This isn't the manufacturer's fault, of course. They have to mass produce thousands and thousands of golf clubs. If they were to take the time we do to measure and weigh every part of every golf club, they simply wouldn't be able to operate."
The frequency discrepancy is even more pronounced in iron sets, where "regular" sets could be off as much as an entire "flex" from one iron to the next. That might mean the difference between a stiff 7-iron and regular 6-iron. That's not good, and it's part of the reason you likely have a favorite club. A player's favorite club is likely to be the club that matches their most consistent golf swing and ball strike. After a fitting at Cool Clubs, every club will match your golf swing.
"The golf swing is all about consistency," said Nelson. "If you're working hard to produce an extremely consistent golf swing, and your clubs aren't consistent throughout the bag, you're going to mishit your shots a lot. If you've ever put a good swing on the ball and cooked it 15 yards left and thought 'what was that?, the problem may be inconsistency in your iron shafts."
All Golfers Benefit
Have no fear, 15-handicapper! It's not just average players who have this trouble. PGA TOUR professionals have issues with their golf shafts all the time.
"I had a TOUR professional who missed a cut in Minnesota and flew out to see me that Saturday," said Nelson. "Now, he's a PGA TOUR professional with access to the best stuff on the planet and his iron frequencies were way off. There's just no way to have consistency in your game without consistent golf shafts. If it can happen to the world's best players, it can happen to anyone. Cool Clubs can help you get that corrected."
Want consistency in your golf game? Book your fitting at Cool Clubs and Play Better Golf℠.
---
Book your Club Fitting at Any Cool Clubs Location
Book a Fitting