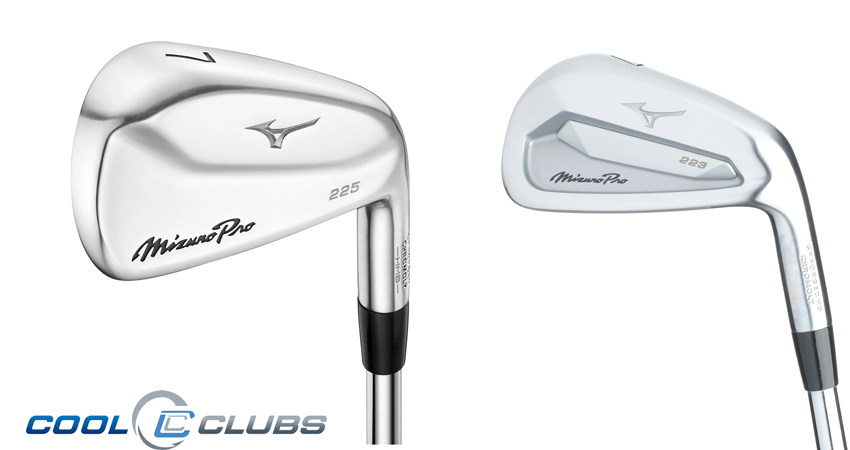 Cool Clubs | First Take
Between the 223 and their new 225 model, Mizuno deserves a pat on the back for revamping what was already a solid irons series. Mizuno tends to get overshadowed thanks to the marketing and advertising budgets of some of the traditional powerhouses, but this year's models once again prove Mizuno makes good looking and great feeling irons. This year has some icing on the cake with both lines performing very well in addition to their great look and feel. The new cleaner logo work and head shapes hit the mark for anyone who enjoys simple and understated looks. The 225 is your hollow body "blade style" – great for a combo set or just a full set of good-looking, high-flying forgiveness. The 223 is the Jack-of-all-trades – solid performer, simple to look at, strong flighted and very forgiving.
---
Mizuno Pro 223 Irons
Touted as the iron offering what PGA TOUR players need but would never ask for, the Mizuno Pro 223 irons present a compact footprint combined with distance boosting tech and a ton of forgiveness. Forged chromoloy allowed Mizuno to thin the face and introduce moderate speed gains while jacking the lofts two degrees to produce playable trajectories while increasing distance.
Here's what Mizuno says about its new Pro 223 irons:
Everything tour players need to compete on extended, more demanding layouts – but never thought to ask for. The Mizuno Pro 223 conceals a ball speed-enhancing construction within the frame of a compact players cavity. A completely new technology platform from 4-7 iron combining Mizuno's tested Chromoly Forging and Flow Micro-Slot Grain Flow Forged in Hiroshima, Japan with a soft copper underlay and uniquely satisfying Mizuno sensation at impact.
Mizuno Pro 225 Irons
While some players undoubtedly loved the original Hot Metal Blade (HMB), the second generation Mizuno Pro 225 addresses the larger footprint of the original by creating a more compact, TOUR-like profile. The line still offers hollow-body construction, but on a diet – slimmed down enough to pass for a blade before a doubletake. Mizuno threw additional mass in the form of tungsten which drives the center of gravity lower and deeper with a thinner face to increase speed and successfully creates a more forward thinking iron without sacrificing the tradition of the brand.
Mizuno adds these thoughts about the Pro 225 Irons:
The 2ND GEN of Mizuno's staggering Hot Metal Blade – and the most playable of the Mizuno Pro series. More compact than the original with a revised CORTECH multi-thickness face for even quicker ball speeds. Equally effective as a long / mid-iron alternative for elite players or a complete set for low to mid handicaps. Grain Flow Forged in Hiroshima, Japan, with a soft copper underlay for a uniquely satisfying Mizuno sensation at impact.
Book your Cool Clubs fitting
for Mizuno's new Pro 223 and 225 Irons!
Book a Fitting