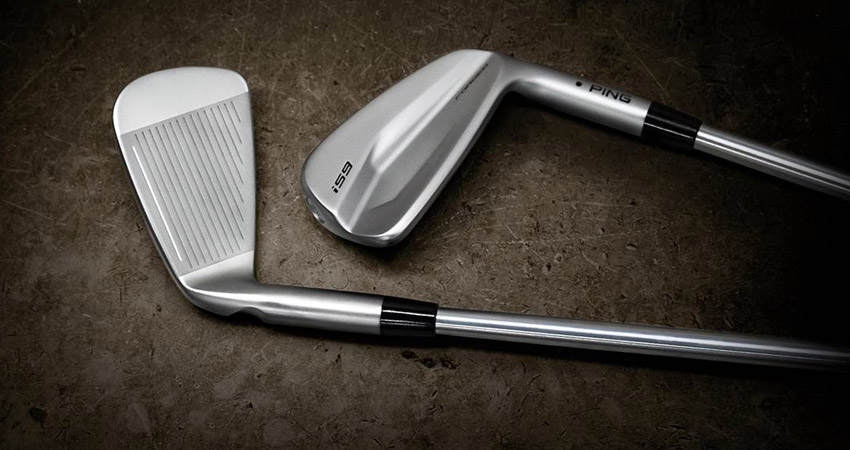 The new, highly anticipated iron line from PING is here and available for fittings at your nearest Cool Clubs location. The new PING i59 Forged irons are seemingly here to replace the iBlade and even possibly the Blueprint and have found their way into the bags of Viktor Hovland and other PING staffers since last March. The chief goal of the new line seems to be delivering more distance and forgiveness on mishits without sacrificing the feel and control low handicappers and TOUR professionals demand.
To Forge or Not to Forge.
While touted as a "forged" iron from PING, the i59s are technically a multi-piece/multi-material iron and appears as a single-piece, forged muscle back iron. The look at address is much more of a forged blade than the previous iBlade iterations, with the head featuring three distinct pieces, swaged and plasma-welded into a single unit which gives it a forged look. The body is made from 1025 carbon steel forging while the face is laser-cut, high-strength 17-4 stainless steel. The third piece features the aerospace-grade AlumiCore™ insert. PING removed roughly 30 grams of material from the core of each iron to redistribute creating, what PING says, is increased MOI and better feel.
One thing not up for debate on the PING i59s is the grooves. There are a lot of them. PING tightened up the spacing between the traditional grooves to add four more rows of grooves onto the face of each iron. Another "groovy" feature is the 20-degree sidewall on the i59s, which compared to the iBlade 16-degree sidewall and according to PING, should reduce flyers in the short irons and maintain better spin in the long irons.
Here's what PING has to say about their new i59 Iron line:
AlumiCore Technology
An aerospace-grade aluminum insert allows approximately 30 grams of material from the center of the club to be redistributed to the perimeter in the form of toe and shaft tip weights, elevating the MOI to match that of the larger PING i210 iron.
MicroMax Milled Grooves
The precision-machined face has new MicroMax grooves for tighter spacing and a geometry that results in an average of four extra grooves to reduce fliers in the short irons and preserve spin in the long irons.
TOUR-Preferred Styling
A thin topline and proper offset presents the clean, streamlined look preferred by skilled players. The hydropearl 2.0 finish repels water to ensure predictable, consistent performance from wet and dry conditions.
Higher MOI
Toe and tip weighting elevate MOI to reduce the stat area and achieve a level of forgiveness unprecedented in a forged design.
100% Inspected Manufacturing Steps
During development of the iron, PING's innovation and engineering teams spent significant time perfecting the manufacturing process, which includes 100% inspection of numerous steps, including sole shaping, head polishing, face machining and head forging.
---
Book your PING i59 Iron Fitting
at Any Cool Clubs Location
Book a Fitting