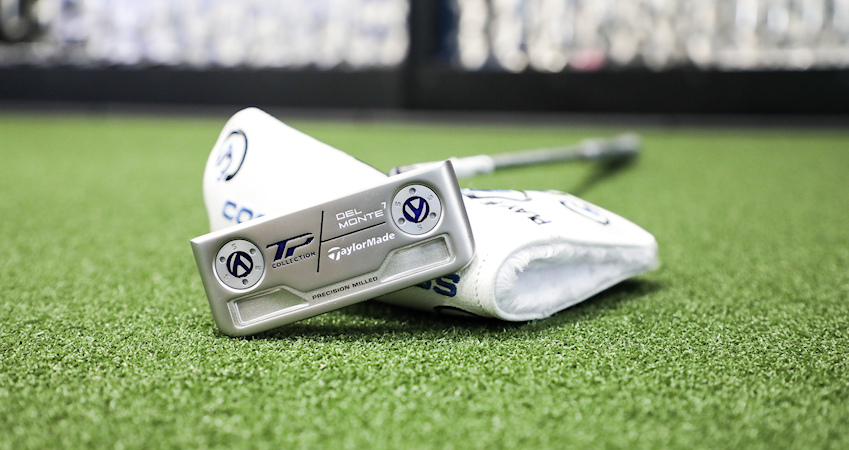 The new Del Monte 7 blade putter from TaylorMade is grabbing the attention of TOUR pros and amateurs alike, and for good reason. TaylorMade seemed to want to address a relatively small segment of the putter market – those who prefer face-balanced blades. Never seen one before? There aren't many outside of the new Del Monte 7. Now, it seems, TaylorMade has taken the best of both worlds approach.
When a putter is face balanced, it means there is little to no rotation of the face during the putting stroke. For the player who consistently struggles with squaring up putts, but does not enjoy the look or feel of a mallet, the new Del Monte 7 might be the perfect balance between effectiveness and aesthetics. As we all know, if you hate looking at it, you won't make a lot of putts.
The Hydro Blast finish on the Del Monte 7 can be seen on all seven putters in TaylorMade's new TP line, and the company says the high-pressure water stream on 303 stainless steel creates a smooth and durable finish. As far as the look, TaylorMade took sort of a throwback approach to the appearance of these putters, keeping some of the classic lines that fans have come to love, while adding a few new eye-catching features.
In addition to the cast, rust-proof 303 stainless steel head each putter in the line, it also features TaylorMade's White Pureroll face inserts, the same one seen on the classic Spider X. While the construction is not 100 percent milled, the addition of the White Pureroll inserts along with the milling process make for a putter that feels twice as expensive as it really is.
What About the Face-Balanced Feel?
The shape and weight of the Del Monte 7 is unique, featuring a shorter head from heel to toe, while wider from the leading edge to the heel. This stout head shape combined with a single bend hosel and just 8 degrees of toe hang make for one of the most face-balanced putters on the market today. All this technology is paired with two adjustable weights on the sole of the putter which provide players the opportunity to customize their weight preferences — easily done during a putter fitting at Cool Clubs
The nearly face balanced configuration of the Del Monte 7 is a fantastic option for the player with a straighter stroke looking for a face balanced putter, but who is adamant about keeping a blade in their bag.
---
Are You Ready to Get the Most Out of Your Putter?
Let Cool Clubs Putter Fitting Experts Help!
Book a Putter Fitting at Cool Clubs