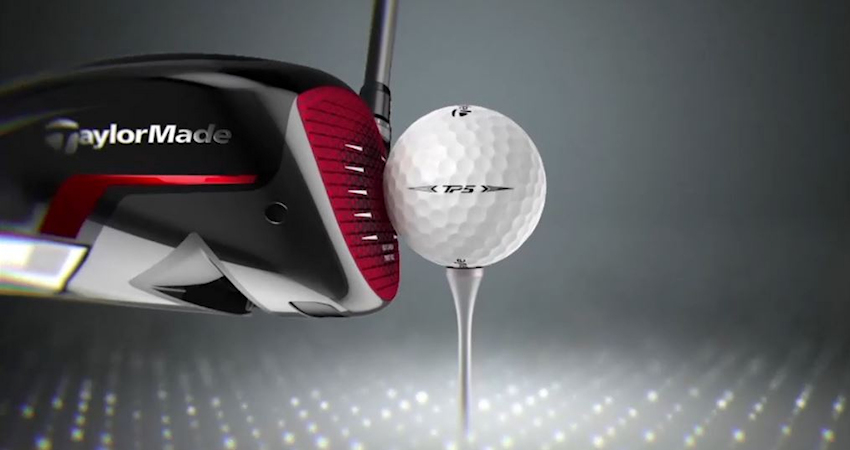 Are we entering a new age of drivers? TaylorMade seems to think so with the introduction of their Stealth Driver and what they tout as a "20-year journey" towards carbon-face technology. In fact, TaylorMade is so confident in their budding new tech, they've gone so far as to change product category titles to reflect this new age and even state they will never make another titanium-faced driver. That's a big bet for the company. Let's get into the nuts and bolts of the Stealth product, see what makes the Stealth tick – according to TaylorMade – and identify if it will help you Play Better Golf℠.
WHAT IS CARBONWOOD?
Let's make this simple. We started with "woods" because the clubheads were originally made of, well, wood. And while the golf lexicon was slow to change to "metalwoods," the thought process was largely the same – the clubhead was made of metal, let's call it a fairway metal or metalwood. Carbonwoods follow this same logic pattern – a Carbonwood is a driver with a carbon-fiber face. Simple.
While the Stealth driver is not the very first Carbonwood ever produced, it does seem to be the first of the new age. Both Callaway and TaylorMade have experimented with the technology before, but the Stealth represents a commitment to the technology and seems to be here to stay.
WHY GO CARBONWOOD?
Aside from being relatively "first" to market, TaylorMade suggests being on the ground-floor with new technology provides ample room for quick improvement. Here are a few potential reasons we're excited about the switch to carbon fiber.
Carbon fiber is lighter. The Stealth's carbon-fiber face is roughly 40 percent lighter than the titanium equivalent, suggesting TaylorMade might have some room to move around weight of other driver components for higher MOI. Will this immediately translate to enormous distance gains? Unlikely, but down the road, TaylorMade is betting on the gap between the two components will widen significantly in years to come.
Carbon Fiber is faster. Speed, speed, speed. It's what it's all about. Right? Speed seems to catch the eyes of just about everyone in the golf industry, and because the face itself is lighter, it changes the relationship between materials creating more flex at impact and – according to TaylorMade – creates that magic 2-3 yards of distance year-over-year.
Carbon fiber is stronger. TaylorMade has incorporated carbon fiber into different parts of the driver head in the past – specifically the SIM and SIM2 iterations – and has stated the strength of the material as one of the many reasons they made the switch. On its face, carbon fiber is an exceptionally strong material and should hold up at high impact with high swing speeds.
There's also the customizable component of the carbon fiber face. The stock driver model comes with a in-your-face red coating, but players will be able to customize the face color to match their preference – if you're into that sort of thing.
Here's what TaylorMade has to say about their new Stealth Driver:
(the following information comes directly from TaylorMade and does not reflect Cool Clubs' personal or professional endorsement)
WHY CARBON?
The future of driver performance begins with our 60x Carbon Twist Face – comprised of 60 layers of carbon sheets strategically arranged for better energy transfer and faster ball speeds across a large area of the face.
OPTIMAL SPIN & LAUNCH
Our 20-year journey to change the face of golf was made possible by an innovative nanotexture cover, which creates the face texture needed for the ideal amount of friction at impact. Polyurethane covers the entire face to fine tune launch and spin, optimizing total distance in all playing conditions.
PREMIUM SOUND
Knowing that sound is a critical component of feel, our team of engineers obsessed over creating the perfect sound with Stealth. They used a combination of curvature, shape, and internal stiffening ribs to finely tune acoustics, delivering a sound profile that is both bright and powerful to match TaylorMade drivers through recent years. Listen in as Team TaylorMade athletes tested the driver for the first time.
Features, advantages, benefits:
60X CARBON TWIST FACE
Twenty years of development marks the end of the titanium era. The all new 60X Carbon Twist Face is 40% lighter than an equivalent titanium face, while also being 11% larger than SIM2 and SIM2 Max drivers and nearly 20% larger than the 2020 SIM driver. Sixty layers of carbon fiber have been strategically designed to optimize energy transfer to deliver fast ball speeds over a large area, resulting in optimal distance and forgiveness.
NANOTEXTURE COVER
The 60X Carbon Twist Face is encased by a polyurethane cover, featuring a revolutionary new nanotexture technology. The nanotexture cover is used to fine tune launch and spin to optimize total distance regardless of playing conditions.
HIGH MOI DESIGN
The weight savings of the 60x Carbon Twist Face has allowed more weight to be positioned low and deep in the head. Additional weight savings come from the removal of the Sliding Weight Track. Compared to Stealth Plus+, this model offers 15% greater MOI.
ASYMMETRIC INERTIA GENERATOR
The Inertia Generator remains the foundational source of refined aerodynamic properties. The result is a slippery-fast head shape that aids in swing speed generation on the downswing for golfers at every level. It provides the added benefit of enhanced forgiveness vs. Stealth Plus+ with extra weight positioned low and back.
THRU-SLOT SPEED POCKET
Our most flexible Speed Pocket™ design engineered to maximize ball speeds and produce additional forgiveness on low face strikes.
---
Book your TaylorMade Stealth Driver fitting
at Any Cool Clubs Location
Book a Fitting