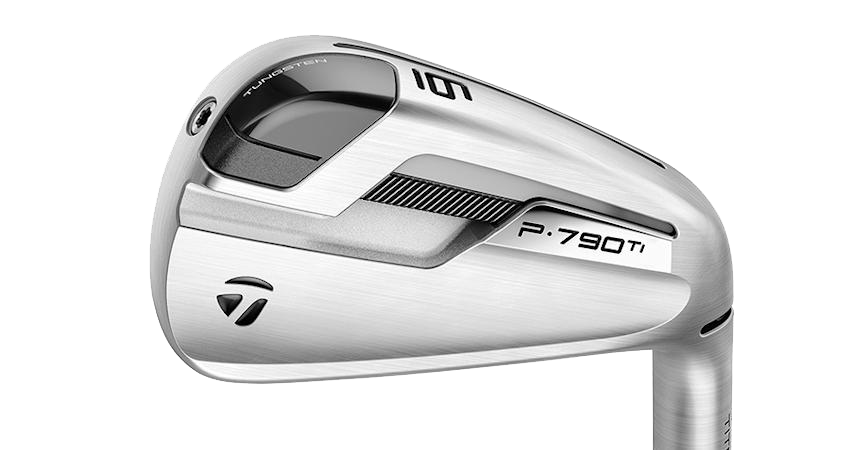 Cool Clubs | First Take
TaylorMade made a bold move within the premium golf equipment market with the launch of the P·790 Ti irons. Through cutting-edge engineering and use of high-performance materials, both of which tend to boost the price tag, the P·790 Ti irons represent one of the finest lines TaylorMade has ever produced.
---
Titanium Clubhead
It all starts with the unique lightweight yet extremely strong properties of 9-1-1 titanium. This ideal combination allows designers to dramatically reduce the overall weight of the clubhead. In fact, a titanium clubhead is nearly half the weight of a steel clubhead. The engineers then return the mass back to the clubhead with tungsten.
Tungsten Weight
One of the most mass-dense metals available, P·790 Ti irons feature up to 120g of tungsten, placed in a bar, low, towards the back of the hollow titanium clubhead. This pushes the clubhead's center of gravity down and back.
P·790 Features
Although the Ti and Tungsten adaptations drive the innovation and success of the P·790 Ti irons, a couple staples of the original P·790 series such as the ultra-light urethane foam injected inside the head and the Thru Slot Speed Pocket remain in this next-generation design. But ultimately, all of the exotic materials and countless hours of engineering are for one thing: Performance, and that's where the Ti shines.
Premium Performance
The lightweight titanium body delivers explosive ballspeed, distance and forgiveness. It also houses the strategically placed tungsten insert and resulting lower center of gravity and forgiveness. This creates higher launch with low spin, a combination that allows engineers to strengthen the loft. Simply put: the ball goes higher and farther.
The injected foam in the core of the clubhead increases ballspeed and feel. The flexible Speed Pocket maximizes ballspeeds and provides forgiveness on shots struck lower on the clubface. Just about everything that can increase distance is maxed out in the P·790 Ti.
Looks
Compared to the original P·790s, the Ti has a slightly taller face, longer blade, more offset and wider sole. It's a distance club in a more compact and traditional-looking package when compared to larger game-improvement irons. The speed foam also helps with the club's acoustics by muting excessive noise at associated with hollow-construction irons.
Shafts
The standard shafts include the Nippon NS Pro 950 GH Neo for steel and the Mitsubishi MMT for graphite.
High-tech and high-end
The high-tech P·790 Ti irons certainly deliver high-end performance, something every consumer willing to make the investment would naturally demand. High tech usually goes with high end, and in terms of the P·790 Ti, it also means high launch, high performance and high ballspeed. As one of TaylorMade's finest technological achievements, it's no wonder they come with a high price tag.
Book your Cool Clubs fitting for TaylorMade's P·790 and P·790 Ti Irons
Book a Fitting