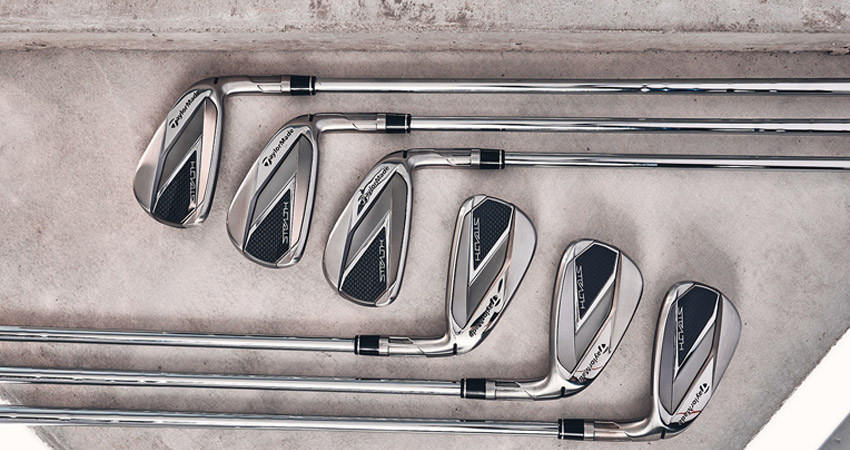 Cool Clubs | First Take
TaylorMade's Stealth Irons for 2022 seem to put a premium on overall beauty – and they are very pleasing to the eye at address – but that doesn't mean it won't perform extremely well, especially in the forgiveness category. In early testing, Stealth irons create a more penetrating ball flight compared to last year's SIM2 Max, and for good ball strikers, it's definitely worth checking them out if you need to squeeze out a few more yards.
---
Year-Over-Year Changes
There are a few key changes from last year's SIM2 irons to this year's Stealth. First, TaylorMade continued their push to drive down the center of gravity for the game-improvement golfer. TaylorMade carved 10 grams of steel out of the high toe area and extended the polymer cap into the void to replace the mass which results in a center of gravity a full millimeter lower – enough to make a difference.
Second, the Stealth iron line features a more squared-off backside compared to the SIM2 and eliminated backside color which Nike fans might remember from the Vapor Speed – minus the yellow swoosh of course. Iron appearance is subjective, to be sure, but most golfers would agree this iron is decidedly more attractive.
The final main change is there is only one Stealth iron model this year. No standard, MAX or MAX OS versions like in years past. This could mean a few things, but it's best not to speculate at this time.
Here's what TaylorMade has to say about their new Stealth Iron Line:
Cap Back Design with Toe Wrap Construction
Cap Back Design with toe wrap construction is an advanced engineering feat that shifts mass from the extreme high toe of the head and repositions it in the sole to create an extremely low CG. It expands the distance, forgiveness and feel benefits, delivering an iron that is easy to launch with a hot trajectory throughout the set.
Fast Forgiving Face with Progressive Inverted Cone Technology
The 450 stainless steel face has an intelligently positioned sweet spot that spans the most common impact points, delivering explosive ball speeds and consistency in all the right places.
Echo Damping System
Located behind the face, the ECHO Damping System uses a soft polymer blend and multiple contact points across the face to channel away harsh vibrations and create a forged-like feel at impact.
Thru-Slot Speed Pocket
Patented TaylorMade technology engineered to maximize face flexibility for increased ball speed and forgiveness for mis-hits low on the face.
Book your Cool Clubs fitting
for TaylorMade's new Stealth Irons!
Book a Fitting