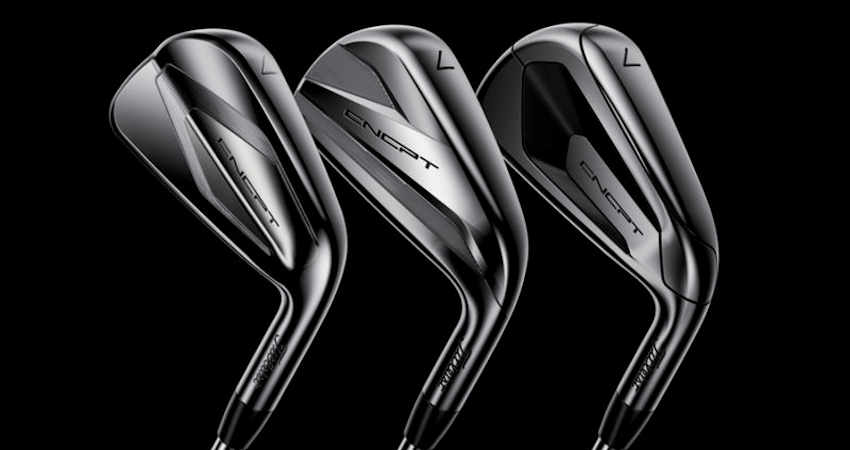 Titleist is certainly testing a new concept with its CNCPT Iron line. Get it? Forget about the one-size-fits all iron sets of the past. For players who need a little more muscle-back in their long irons and a little less help from their short irons, the CNCPT line from Titleist allows players to customize based on their feel and playing style. And at Cool Clubs, of course, we'll ensure each of your irons is fit and built to your exact specs based on your unique swing.
Take a look at what Titleist has to say about the its newest iron line.
From Titleist's Product Release Information
The new CP-03 and CP-04 irons have been constructed from exotic high-performance materials that can take up to eight months just to source. Each part has been forged and cast to the extreme limits of precision, yielding a strike that generates supreme ball speed with ideal launch and unparalleled forgiveness:
— CP-03 provides an astonishing balance of power and control in a progressive midsize muscle back profile
— CP-04 advances the original CP-01 design, delivering ultimate speed with enhanced accuracy in a player's improvement head shape.
They join the superior blade-size performance of CP-02 in the new CNCPT series – now available for fittings at Cool Clubs.
Some of the Specs from Titleist
Forged supermetal L-face insert — the thinnest unsupported, constant-thickness face in golf — produces supreme ball speeds with increased launch (mid to low irons). CNCPT irons are the first club designs to utilize this rare, super strong alloy.
Multi-material, hollow body design allows for optimized MOI and CG placement in every iron through the set.
Extraordinary amounts of high-density tungsten weighting — making up nearly 50 percent of the total head weight in the lower lofts — provide precise sweet spot calibration and greater clubhead stability. At least 100 grams of tungsten on average (mid to low irons) is used in each iron to produce the most generous and forgiving impact possible.
CNCPT is the dream project for our engineers. We're on the journey to not only design the ultimate iron – but actually figure out how to make it. We've made a huge leap forward with the discovery of this supermetal alloy – the material is so strong and resilient that we're able to forge iron faces even thinner than we once thought possible. It's difficult to obtain and extremely challenging to implement into the manufacturing process, but the benefits to the overall construction in terms of ball speed, launch, distance and trajectory are just astounding.

– Marni Ines, Titleist Golf Club R&D's Director of Irons Development
Book Your Cool Clubs Titleist Irons Fitting Today
Book a Fitting