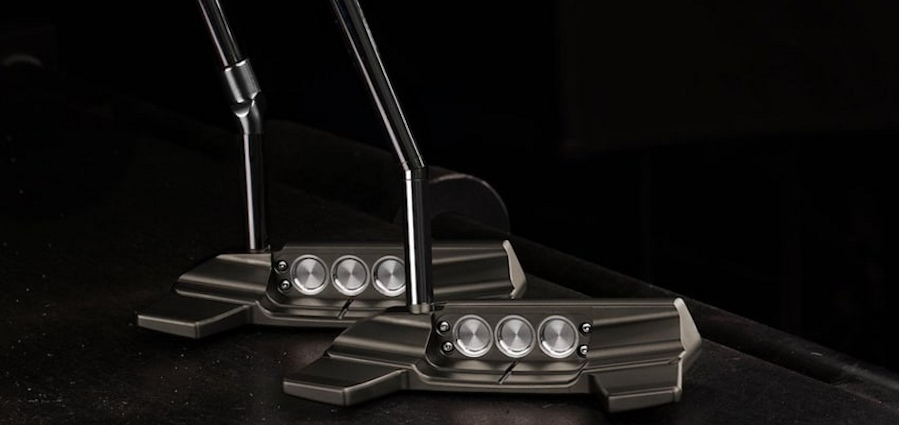 ---
Scotty Cameron Concept X Putters
Scotty Cameron tinkers a lot in his workshop. He grinds, bends, welds, polishes and experiments with materials to create one-off prototype putters that he calls J.A.T. ('just a thought'). Some of these conceptual ideas might see the light of day and eventually go into full- or limited-scale production. Based on some recent J.A.T. designs, Scotty Cameron will soon release a new putter called the Concept X. It melds the best of a blade putter similar to the Newport 2 and the mallet head putter that some golfers prefer.
Refinement and forgiveness are two terms that best describe the new Scotty Cameron Concept X putter line. Complementing an already winning design, the sleek, refined look is all about stability and forgiveness. What more can you ask for in a putter? The wider design and the added "wings" enable the weight to be distributed further away from the center of the face than previous models, increasing stability throughout the stroke and, more importantly, at impact.
Two Options: CX-01 and CX-02

A lot of design work went into two chambers within the head that positively affect the sound, feel, and vibration dampening. The new Concept X also provides you with two shaft connection design options to suit personal preferences. The CX-01 uses the plumber neck or knuckle connection between the shaft and the head. The CX-02 adds the appearance of a bent shaft, when in fact it is a separate bent joint connector between the shaft and the head, this avoids having to bend the shaft itself. Both designs provide improved toe flow to accommodate the putting stroke. Adding to the modern updated design is the new color scheme you'll see in the putter head, grip and head cover that will turn heads on the green. It may also help you improve your putting efficiency, and that's something you can take to the bank.
Watch Scotty Cameron talk about the new putter in the video below.
Book your Scotty Cameron Concept X putter fitting today.
Book a Fitting