Testimonials
See What We Can Do for Your Golf Game.
We have acquired a lot of happy clients since we founded Cool Clubs in 2007. Both beginners and pros have all noticed a difference in their game and skill level since being fitted at Cool Clubs. But don't just take our word for it, see for yourself with our client testimonials below.
95% would recommend Cool Clubs to others
Our Fitters Get Results
Thank you!
3/28/17
I wanted to write and let you know how completely satisfied I am. I'm a former NCAA Division 1 golfer, played the mini tours a while, and now I compete at the amateur level. I'm not stranger to the benefits of fitted clubs. However, the level of service I received from Cool Clubs was above and beyond anything I've experienced before. I've added distance, increased accuracy, and as a result brought forth a new level of confidence that I haven't had in a very long time. Cool Clubs has gained a long time customer in me and I am referring everyone I know.
Thank you!
Calvin
Good Work!
3/15/17
As a PGA professional, I know that service is the most important product that we can give to our members and customers.
I have been thoroughly impressed the attention to detail and customer service from everyone that I have contacted or talked to at Cool Clubs.
Your expertise and knowledge is outstanding and I would not hesitate to recommend you to my students for an expert fitting.
Keep up the good (excellent) work.
Sincerely,
Earl
New Driver
9/30/16
Best $500 I've spent!  You're the best.  Distance, high launch, baby draw, and roll…couldn't ask for more.

Suzi
Results of your fitting
9/30/16
Just wanted to update you on the results of your club fitting for me earlier this year. To refresh your memory, you fitted me for irons and a driver in February of this year. I didn't have time to fit my hybrids and fairway woods because my Scottsdale visit was short.
Now that I have had time to adjust to the clubs, the results have been dramatic. At the time I got fitted, my course handicap was a 9 and now it is a 6. I think that calculates to about a 30% decrease!. Last week, I actually played One Under on the front nine and One over on the back nine, so I played even par. So, instead of my traditional 8 index, I float between a 5 and a 6. I rate that as a giant and amazing improvement that I can attribute to your fitting skills, my poorly matched original equipment, and one simple swing change I finally committed to implement (known issue I have had for many years).
The clubs have given me more confidence, I rarely worry about hitting a hook, they are tremendously easy to get up in the air, my driver length is at least 20 yards longer because I feel I can swing faster and not be concerned. I probably have increased my swing speed from the mid 80's to the mid 90's because of my confidence in the clubs. I "tinker" with the loft on my M2 HL because of my increased swing speed and switching to the Bridgestone RX 330 RXS. The ball noticeably hangs in the air longer than my Pro V1's.
I didn't fit my hybrids and fairway woods, so I "self-medicated". I am hitting Ping G hybrids in their stock regular shaft and an Aeroburner 3HL with a stock regular shaft. I can carry the 3HL 180 yard over a pond in front of a par 5 on my home course. If I get down that way again, I might go in for a fitting to complete the process.
A club champions just opened in Bellevue. I made a visit, but they don't engender the same confidence I have in Cool Clubs.
Many thanks for your skills
John
New Irons
Just a follow up on the new Callaway irons. They are longer (when I take the time to hit them square) by about 15-20 yards. I hit a 5 iron well over 200 yards which was 185 with the old ones. I seem to be hitting some shots closer (go figure) than I have for along time. I find myself hitting less club but maybe because I am going after the ball I am getting better results. Thank you
Feedback on new clubs
I was one of your clients around mid June this year.  At that time my index was 16.4.  You set me up with a Ping driver, a 3, 5 and 7 set of Callaway fairway woods and the M2 irons.  I do not remember the shafts.
When the clubs arrived, my index did not change for about a month as I adjusted to the new clubs; however, by August 1 it was 13.6 and now the trend is 12.3.  I played two rounds last week – 79 and 77 – have not been in the 70's in several years.  In addition, I had a career high of 8 greens in regulation on the 79 and 10 greens in regulation on the 77.  Unfortunately, of those 18 possible birdies, I only made 2.  However, my tee to green game has greatly improved;  I used to be on the green in regulation only 2 or 3 times a round.
The most significant improvement commented on is that I have gotten a reputation of being "down the middle" almost all the time.  Also, whereas my drive was  200 to 220 yards, I have begun to hit about 1 out of 3 drives about 240 yards and even cranked one out 250 the other day!
Thank you for the work to set me up with a great set of clubs.  My putting will improve.  By the way, the 16 birdie putts missed probably totaled about 6 to so feet of tap ins for pars.
So Thank you and keep up the good work.
Ray
Hole in one!
I just wanted to share that I got my first hole in one yesterday using my custom fit and assembled Callaway Apex CF16 with an Aerotech Steel Fiber i80 shaft!
Couldn't have done it without you!
Thanks,
Jason
Thanks!
I have had my new clubs since the end of May and my handicap has dropped four strokes, thus far. My goal is to get into single digits…I'm currently at 10.8, so I believe I really am going to get there.
The consistency in performance of my clubs has made more of a difference than I truly expected. I'm sure I will schedule a putter and probably a long game session in the future, but for now I'm enjoying the improvement and confidence the Cool Club advantage has given me.
Again, a big thank you to you for a wonderful day fitting irons and the increased pleasure hitting shots like on TV… Well, once in a while :).
Sincerely,
Brian
Cool Clubs Atlanta
 I've known Bill for close to as many years as he's run his academy, with my house being a stone's throw from his location(s). He's a great fitter, a great player (ask him about his playing resume), and has a great eye for the swing and its many nuances. What makes him unique as an instructor is his patience along with the aforementioned blend of traits – he can teach a 30 handicap all the way down to professionals, and each could learn something to get better. And, that he has a unique relationship with Cool Clubs, tons of great equipment, simulators, putting studio, TrackMan, etc? Nowhere else to go. The best!
Tom
I went to Bill for a full bag fitting on Friday. To begin, I am an 18 handicap with many issues that go beyond poorly fitted clubs. I had no expectations with my fitting but left after 4 hours with more confidence than I ever dreamed of when I scheduled the meeting.
It was clear to Bill that to fit me appropriately, there were several changes in fundamentals. We spent 20-30 minutes working on softening my grip and turning my hands over at impact. We worked on several drills and I was suddenly hitting the ball square. We then worked on increasing club head spread and I was driving the ball 20 yards further and straighter. It took him 40 minutes and was probably the best lesson I ever had. It just made sense. He was able to show me my swing on the simulator, show the data including speed, impact angle, etc and show that subtle changes make a great difference. All of this in a climate controlled environment.
The club fitting was amazing. I haven't received the clubs yet but am very excited for them to arrive. Cool Clubs looks at all manufactures and shafts and fits you precisely to your swing. No more demo days swinging one manufactures stock options. In one fitting, you get to the exact club and shaft for you.
I can not begin to express my enjoyment and pleasure in the fitting turned lesson. I recommend them unequivocally.
To conclude, the day after my fitting, I played 9 holes (I was sore after a full fitting and had to cut it at 9). I dropped 3 strokes on my average and enjoyed the consistency.
Robert
Update – Love all the new trackman gear. I learned so much in just a short period of time at today's open house! Plus, I started the day with drives going 260 and after a couple tips from Bill and learning about my trackman numbers from Pete I cranked a few out 300+!!!! All with my current driver no less! These guys are the real deal!
Original review – If you want a golf instructor who actually listens to you and cares about your golf goals (and who is also gifted at improving your game), then look no further than Bill Baraban. It's so refreshing to have an instructor who understands who I am and who I want to be as a golfer. Combine that with with his stable of best in class video and analysis technology (the new mat measuring weight distribution is especially useful and impressive) and I can't imagine going anywhere else.
I may never take a lesson outdoors again. Bill you have made me a believer. Thanks and I can't wait to continue improving!
Monte
Wow!
Handicap has dropped from 11 to 9 since I got the clubs. Today I had my first eagle in over a decade! Driver – 5 Iron – PW from 115 yards out. I think some of my buddies will be calling you soon!
Best,
David
Hole in One!
Thought you should know because you made my clubs, had a hole in one! A 184 shot with the 4 Iron you fixed.
Thanks!!
Don
New Clubs Rock!!
Picked up the set of clubs you fitted for me, and I have played a few rounds with them and you were TOTALLY RIGHT!
I am having a hard time with these Bad-Boys!
The first round found me flying the green every other hole outside of a hundred fifty yards! I'm pretty sure that I could do that…when I was in High School! Those Ping Irons are terrific! I am considering forwarding my Chiropractic bill your way after hitting a few approach shots around the green with the Cleveland Wedges you added to my new arsenal. The ball flew so high that I am quite sure my neck is strained from following the ball! Cleveland ROCKS!
My drives have been finding the fairway an unbelievable number of times since rekindling my love affair with the game after a twenty five year hiatus! It's too soon to say for certain…but the last few rounds averaged a savings of about six strokes from what I was shooting before popping into your office! A few weeks 'Whack'n the Ball in the Blaze'n Sun' should improve upon that figure!
Putting! I remember me saying, "I KNOW I'm a terrible Putter!" before you did your magic in that beautiful space you get paid to hang-out at. Then you responded with your technical data and the remark, "I don't believe your a 'Bad Putter' Mike…maybe you just can't read the greens!?" I laughed so hard later that day…Bottom Line…you were Spot-On again my friend! I love the 'Two-Ball' Putter! That baby hits the ball right where I'm pointing it, (although I have to get used to the additional weight…. Once again, 'Practice will make more perfect!'
Thanks again!
Mike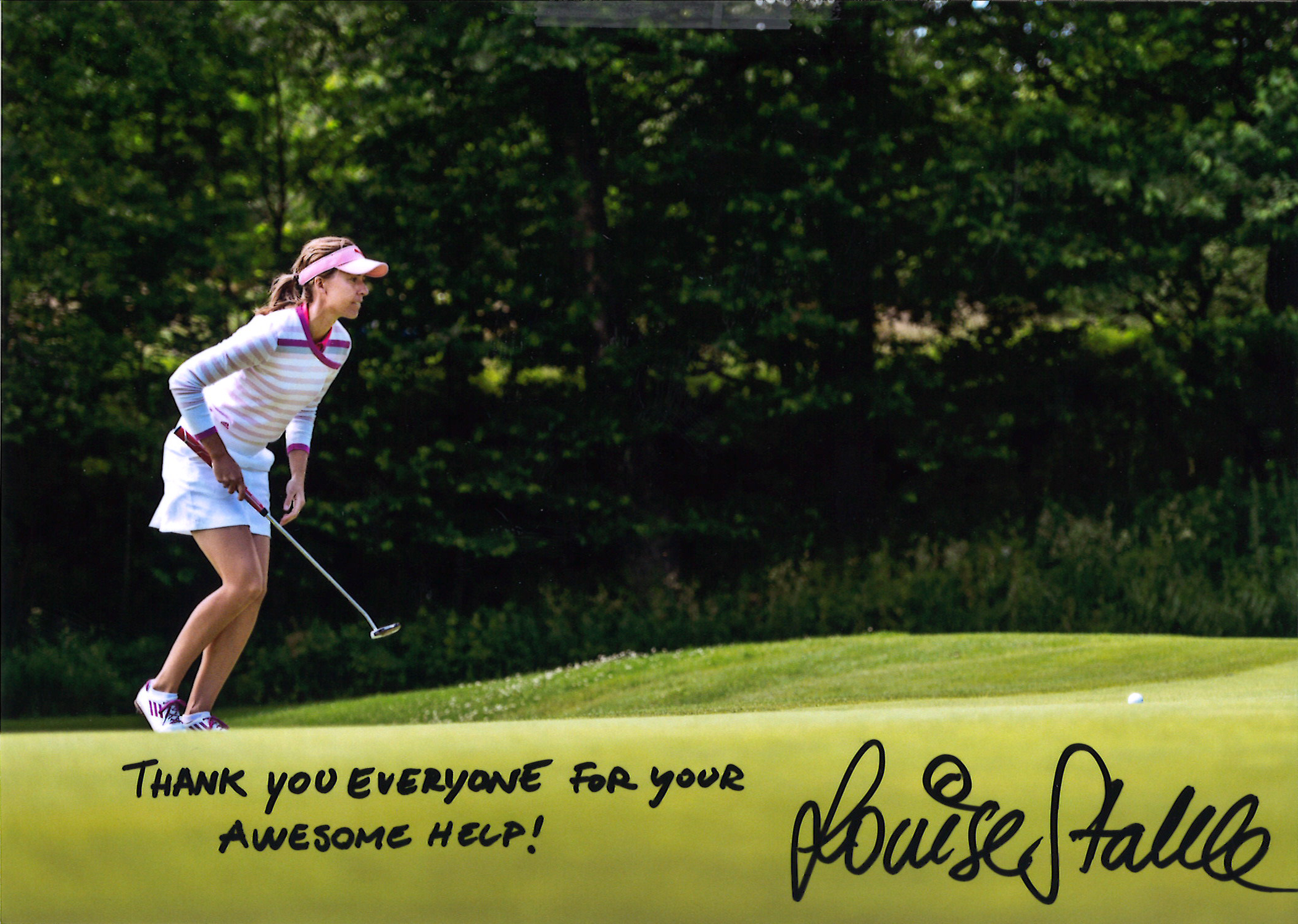 Delivered to Cool Clubs by Louise Stahle, before she departed for the LPGA European Tour.
Cool Clubs Atlanta
I wanted to take a moment to tell you all at corporate headquarters how fantastic I think Rob LaRosa is in your Atlanta location. For years, I've been getting custom fitted clubs from another club fitter in the area who made the Top 100 fitters for Golf Digest. I've been happy with my clubs in the past, but I wanted to try CoolClubs because I wanted another expert's opinion, and I was intrigued by the idea that I could try different club heads with different shafts. This was something that my former club fitter did not offer. So I started off with a putter fitting to see how I liked the experience. Rob spent a good deal of time with me, longer than what the fitting session typically calls for. When I got the putter 2 weeks later, I immediately went out and shot 73, 78 in a two day tournament at my club. It felt like I made EVERYTHING I looked at. If I was inside 10 feet, I made it. If I was 15-20 feet, I expected to make it. I've never had that much confidence with my putter before, ever.
So of course, I had to return to Rob for an iron fitting. My experience with the iron fitting was by far the most enjoyable fitting I've ever been through. Your facility is 1st class. But Rob's knowledge of the clubs and shafts, and his use of all the technology available was very impressive. Rob said he wanted my ball flight to be higher, with more spin, as I tend to be a low ball hitter. It was so much fun to work with him as we tried various club and shaft combinations until we got the spin rate and ball flight just right. And unlike those Big Box stores that have simulators as you hit into a net, I could actually see the ball flight change as I hit outdoors to a green, while getting everything confirmed with the data from the TrackMan. This gave me a level of confidence in the accuracy of the fitting that I've never had before.
I just received my set of Mizuno MP-54's this past week and shot 77 the first time I played them, without even going to the range first. I absolutely LOVE my new clubs. Without question, they are the best set of irons I've ever owned. (And I've owned a lot of clubs over the last 20 years, as my wife can begrudging attest to.) I'm normally shooting in the low to mid 80's, but since I've seen Rob, I haven't been out of the 70's! My next fitting with Rob will be the long game followed by the driver. I will have a completely new bag by the end of the year.
I'm sorry for the long email, but I wanted to let you all know how happy I am with the clubs and how impressed I am with Rob. Whatever you're paying him, it's not enough!
Thank you,
Kevin
WOW
I was fitted by Chris Thomas at your Scottsdale headquarters recently, seeing the numbers on Trackman was impressive, seeing them on the actual golf course was amazing. Hit 11 of 12 fairways with a draw or fade on command, the one fairway I missed was due to a bad swing! WOW!!
Rob LaRosa!!!
Hi Rob,
I just wanted to drop a quick note to say thank you for today.
I know Wendy and I had a great time and we both learned a lot spending time with you. Your way with people is fantastic and the way you articulate golf is very simple.
I'm really excited to practice the new moves. You have a great eye for the swing and your use of trackman was perfect.
I really liked that shaft we tried today, when I get the new head I'll contact to get it.
Let me know if I can ever help you in the future.
Regards
Jeff
We love customer Feedback!
Rob, I can't speak highly enough about my experience with you. And I will let Mark know as well how great it went. Also, I'm sure you and I will talk again soon, for some coverage in GOLF. That may not be until a couple of weeks. I'm still trying to figure out how to treat this in our pages. A practical question: What's the next step in terms of my getting these new irons made for me? I'm happy to pay whatever Cool Clubs thinks is fair. (Haha, after our fitting, there's no way I can ever swing my current sticks again!)
Best,
Connell
Customer Feedback Making a Champion!
To Allen,
I just started using my new golf clubs that I had purchased from Cool Clubs after a fitting with you at your headquarters. I must say that I am extremely satisfied with the performance of the clubs and the thorough professional job that you did both during the fitting process and also in the timely delivery as you had indicated.
I just won one of my local club tournaments playing with my new clubs for only the second time. I managed to finish 6 under my handicap in a strokeplay event and scored a gross total of 80 which is my best score in any tournament so far. I would like to convey my appreciation to yourself and your organization for doing a great job.
Thanking you,
J
All the way from Atlanta
Dear Cool Clubs,
I wanted to express my appreciation for the Atlanta Cool Clubs with Bill Baraban's Foregolf academy. My daughter is an aspiring junior golfer with plans to play on the collegiate level. Early on I assumed the role of becoming her teacher. As anyone in the golf industry would readily understand this was an enormous undertaking. I invested my discretionary energy and time into this endeavor and as a physician relied on my back ground as a base to learn the biomechanical priniciples of efficient  athletic movement and apply it to the golf swing  in a practical manner. More recently  the need to re-evaluate my daughters equipment fitting needs and seek out a teacher that could help her get through some persisting challenges I began to look beyond our current sphere. From a fitting perspective I investigated the market and after much study Cool Clubs remained the forerunner. Recognizing the importance of instruction in addition to properly fitted equipment the Atlanta Cool Clubs coupled with Bill Baraban's Foregolf academy was what would best benefit my daughter. It would also make sense that both organizations associating with each other were of equivalent caliber. I have since visited with Bill Baraban  and my daughter has become his student. She has visited with him twice since the new year and each lesson has been has directly identified and addressed her needs. It's a 3 hour drive to Atlanta and Bill provides a very robust lesson. As you know he is a wonderful man and I am relieved and confident in his skills to help my daughter be her best.
And with that I am very thankful to you for providing such a service of pairing instruction with equipment fitting and selection.
Sincerely yours,
Dennis