Testimonials
See What Cool Clubs Can Do for Your Golf Game.
Cool Clubs has helped a lot of happy clients since we founded the company in 2007. From beginners to accomplished amateurs, and professional golfers from many different tours, all have commented on the difference in their games and accomplishments after a fitting at Cool Clubs. But, don't just take our word for it. Read for yourself a few of our client testimonials we're sharing below. This sampling of great stories can include you, too. Come into Cool Clubs. Get fit. Play better golf. And, let us hear from you.
95% would recommend Cool Clubs to others
Our Fitters Get Results
An Extra 15 Yards With the Driver – Thanks Cool Clubs!
June 21, 2022

Hi Clare,
Just a note to say 'Thanks!' I've had the new clubs out on the course a few times now, and am really enjoying them. My ball striking has noticeably improved. It feels like I'm an extra 15 yards with the driver, and an extra 10-15 with the fairway woods and hybrids.
I'm getting an extra 3-4 yards on each of the irons. I'm also seeing truer ball flights, and much more air under the ball which is fun to see and feel, and I'm getting softer landings on the greens. I'm now able to hit my "Money Club," the 5 iron, confidently.
The difference has been noticeable enough that I've had playing partners ask and I have given them your name. No offense, but I hope they don't contact you, I prefer to beat them! You might be hearing from some of them.
Thanks again for all your help.
Regards,
Bill
A Fitting Session at Cool Clubs Leads to a Lower GHIN
October 29, 2021

Grayson,
Hello, I hope you had a busy summer working with golfers like myself.
I thought you would like to hear an update on my game since our fitting session on March 5 of this year. My GHIN at the time I received my clubs was 8.5 – it currently sits at 4.7 with a low of 4.4 this season.
Not only am I scoring better and playing much more consistent golf, the swing itself seems so much LESS stressful on my body (especially my back)! Also, my 'misses' are much more manageable.
One quick golf story. The first time I hit the new hybrid was on our signature hole, a par 3, 220 yards downhill, to an island green during our first big men's club tournament. I knocked it to 6 inches, won the Closest-to-the-Pin, a Gross Skin and a Net Skin (about $430 total)! I would have won 1st Place Net in the first flight if I didn't take a quadruple bogey on the 36th hole!!
Fell free to share my satisfaction with future customers.
Thanks again,
Jim F.
Why My Gambling Buddies Hate My New Shaft
October 26, 2021

Grayson,
I want to send you a follow up email. Thank you for setting me up with the Fujikura driver shaft. Before my fitting, I would routinely lose 1-2 drives out-of-bounds per round. In the last 5 rounds I've put only 1 ball OB.
My gambling buddies hate the new shaft!
Cheers,
Ian I.
Client Publishes a Google Review – We Love It!
October 18, 2021
Cool Clubs is like Christmas morning! If my game doesn't improve after these clubs, I'm hopeless.
Cathy W.
Handicap Down and More Fairways in Regulation
August 13, 2021
John,
The new driver is preforming great. With a golf lesson to adjust my grip and set-up I'm getting an extra 10-20 yards. Also, much less variation in my ball flight. More fairways hit and shorter shots to the green! My handicap is down 2 strokes and I'm not buying my opponents as many cocktails as in the past.
Thanks for your expertise in analyzing my needs. You and Cool Clubs are worth every penny. I'll see you for a new fairway wood in the fall.
Jim K.
Newly Fitted Clubs = Lower Handicap and Longer Drives
July 11, 2021
Josiah,
Hope you are doing well! The new clubs have been so amazing. The combination of playing more with correctly fitted clubs has dropped my handicap by about 4 strokes and my driver is consistently 20 yards longer. I knew it would be a big difference trading in 20-year old clubs that were not fit for me, but they are doing better than I expected.
Thank you,
Chris D.
Another Happy Customer at Cool Clubs in Irvine
May 27, 2021
Chris,
Finally got to the golf course today. The new 4-wood is amazing! I've never hit so straight consistently. Thanks so very much.
Michael B.
Irvine Master Club Fitter Receives Kudos
May 21, 2021

Joshiah,
The professional fitting you provided was an amazing experience. I know my game will be influenced in an exceptional manner with the new set of clubs.
Thanks again for your World Class service!

David A.
Cool Clubs Master Fitter in Foster City Creates an Amazing Experience
April 29, 2021

Grayson,
Just wanted to give you the update on my beautiful new clubs. Amazing!!! Flight, distance and accuracy improved with all clubs. The sound that comes off the driver is amazing, seems like I use the word too much but it fits the whole process.
Thanks again for an amazing experience with game-changing results.
Gary B.
Level 1 Emergency Fix at Cool Clubs
April 12, 2021
John Singletary at Cool Clubs is a fantastic fitter. The previous driver shaft I purchased from another company was a total mistake. Basically, the shaft was similar to swinging a 2×4. Additionally, the original shaft I was using with my TaylorMade driver (my regular gamer) was off as well, so I was missing left due to the early kick-point. My mistake not coming to Cool Clubs earlier!
Cool Clubs built me a Fujikura Ventus Black with all frequencies dialed in and the shaft was ready the next day. Net-net, the data don't lie. John provided a great experience and his HONESTY wasn't a sales pitch, but about helping me play better golf. This was a Level 1 emergency for me, and Cool Clubs didn't disappoint.
Justin H.
A World Class Fitter at PGA National Receives Customer Praise
April 3, 2021
Far and away the best fitting I've ever had from Mike D'Orazio at PGA National. I've purchased five sets of clubs after five fittings from four different fitters over the past 12-14 years. All of my past fitters did a great job. But, the depth of analysis and explanations Mike gave, as well as helpful suggestions for swing corrections that he detected, were very useful to me. I have already made changes to my swing that are helping me with my old clubs as I wait, anxiously, for my new bag full!!
I like the Cool Club software and am a very technical guy myself so I appreciate Mike's application of your software to my individual needs as the fitting progressed. Mike is a gem!!
Walt P.
New Irons Make a Difference and Wedges Next
March 3, 2021
Sue,
Played my first round today with the new irons. They are spectacular!!! You did a great job!! Looking forward to the new wedges!!
Thanks again.
Doug B.
How To Make Your Golf Pals Jealous
March 3, 2021
Sue,
Played yesterday and all I have to say is WOW. I hit 12 fairways and 2 others were close. Hit it 10-15 yards longer and that got me to fairways on dog legs that I normally end up in the neck of the turn in the rough.
Felt solid on every shot. I didn't tell my buddies until the end of the round about my fitting and they all kind of looked at me like, "Gosh, I should have one of those." Sheepish looks from your partners are GREAT. And, I played well, too (80).
Bottom line: thanks for a great fitting job. You really know your stuff!
Gary A.
Cool Clubs Fitter in San Francisco Wins Praise
February 16, 2021
Hi there, I just wanted to pass along a bit of feedback from my fitting with Clare Cornelius at the San Francisco Mariner's Point location yesterday.
Clare had previously fitted me for clubs ~3.5 years ago, and when I made the decision to re-up again this year I never even thought about going elsewhere. Once again, Clare delivered. She was incredibly friendly and professional, and provided invaluable insight and advice throughout the entire process.
I cannot speak highly enough about Clare or the CoolClubs process in general, and it's certainly where I plan to get my clubs for years to come.
Thanks again Clare!
Tom P.
Customer's Handicap Drops by 6 Strokes Soon After a Cool Clubs Fitting!
January 18, 2021
Cool Clubs Irvine, California
Cool Clubs and Josiah Solberg are the best in the business. Literally changed my golf game and dropped my handicap six strokes in less than three months. You should set up an appointment with them as soon as you can.
Gabe C.
New Sticks Deliver a Big Wow!
December 30, 2020
Cool Clubs Irvine, California
Josiah,
Made my first swings with the new sticks at California Country Club this morning. First swing with the Driver went 265, and I hit all 14 fairways in regulation. Wow. Hybrids working as hoped as well.
I am super happy with the sticks !!! Thanks again for a great fitting !!!
Bill F.
A Shout-Out to Pete in Georgia
October 16, 2020
Cool Clubs at Cartersville Country Club, Georgia
Pete was fantastic. A true professional who is personable, knowledgeable and just a pleasure to be around. Appreciate the service and look forward to working more with him in the future.
Michael L.
Thanks From a Loyal Cool Clubs Customer
September 18, 2020
Sue,
Thank you for sending all my fitting info including the Big Bertha vs. Maverick comparable specs and evaluation.
I have great respect for Cool Clubs methodology and you personally. Your knowledge, insight and ability to quickly analyze is impressive and translates immediately into my game progress and objectives. It is always a pleasure to work with you.
I also appreciate that your entire team (I worked with John earlier in the week on the putter) is not married to a particular brand, with Cool Clubs' sincere goal of matching the best product to us golfers and our unique attributes.
You all are true "pros" at your craft. I remain a loyal Cool Clubs customer and would recommend you to all skill level of golfers.
Jeff H.
A MUST for an avid golfer!
July 27, 2020
I love Cool Clubs! I have been a customer for over 10 years and I could not possibly play golf confidently without knowing I was swinging a club fit for me at Cool Clubs. Additionally, I have enjoyed getting to know my fitter, Chris, who makes great recommendations, knows my swing and my limitations. He also does a good job balancing performance and cost and I know Chris will never try to put me into more expensive equipment just to "sell me". I have total trust in the fitters and the process. While it comes with a little premium cost, it's a MUST for an avid golfer. Thanks Cool Clubs.
Tyler W.
I Love This Game!
July 13, 2020
My goal was to shoot my age before I'm 70. Well, these new clubs are working! Today I did it! I shot a 69 this afternoon. I hit 15 greens in regulation and two of the other three were in the fringe. I love these new sticks! As you might guess, I am elated. As a retired teacher I take great joy hearing from former students, so I want you to know that what you are doing made a big difference in my game. I also want you to know how much I appreciate your help. It was a delight to work with you. I love this game!
Jim M.
Fantastic Experience!
June 15, 2020
My fitter was John Singletary, and he made the experience absolutely fantastic. Cool Clubs is a great concept but like ALL companies they are dependent on their employees to execute the company's vision and mission statement. John did this exceptionally well, let's say John hit a "hole in one!"
Thank you!
Jim K.
Cool Clubs Just Makes Me Better!
April 3, 2020
Cool Clubs has always been considered the top fitter in the Golf World. Once again Cool Clubs and Justin Nelson showed their magic in my last fitting session.
I have played golf for 60 years and I am now 68 years young. My new clubs have accomplished the following:
Gave me ten yards longer with every iron
Gave me fifteen yards longer with my driver and three wood.
Yesterday shot my lowest score ever on 9 holes……..31 (5 under par)!
I can't thank your team enough. As I get older, Cool Clubs just makes me better.
Thank You
Bob P.
Blown Away!
March 31, 2020
I have nothing more than glowing reviews to share with you in my recent experience with Sue. She was beyond professional, very knowledgeable and friendly. She certainly made me comfortable as well, which is vital for a fitting like this.
I was blown away from start to finish. Looking forward to getting the clubs!
Thanks
Ben J.
My Fitting Was Amazing!
March 30, 2020
I have been coming to see Justin for almost 20 years.  As always my fitting this past week was amazing.  Not only do I consider him a good friend but I also trust his expertise in the golf club industry.  Because of this I try to refer as many folks as I can who are looking to have a fitting to him.  Justin is the reason I keep coming back to Cool Clubs.  You folks are lucky to have him!!!!
Robert W.
Justin Is Awesome!
March 2, 2020
I had a blast! Justin is awesome and genuinely appreciated the natural gift that is my golf swing. None of my buddies know how blessed they are to get to play with me and witness the poetry. But now, with the perfect weapons, shafts that are actually long enough and the proper level of stiffness, oh boy! Watch out. Looking forward to the snow melting and the great unveiling of the new "cool clubs"!
Todd W.
Driver Fitting Makes a Difference
February 13, 2020
I wanted to let you know that I used my new driver last week. Wow, what a difference it makes with a good fitting. I thought that my Roger Dunn fitting would work, but not even close. You guys are on top of your game.
Alan W.
A Fitter in San Francisco Receives Customer Raves
January 6, 2020
I wanted to write to give as much praise as I can to Clare over at the San Francisco location. Over the last three years she has fitted me for irons twice, a putter and finally on Saturday I was able to do a driver fitting with her. She is always thorough and never skips a step during the fitting process.
My wife paid for me to get a driver fitting at Club Champion last year because she wanted to surprise me. And man it is night and day difference between them and Clare. They wasted half the session figuring out driver length because they didn't measure my driver. I told them I like heavy swing weights because I'm 6'8 and my irons are always heavy like generics. The guy kept handing me light drivers and couldn't figure out why I couldn't time them. Three of their fitting heads broke. And, to top it off, he recommended a setup with the lowest smash factor!
Now skip to this last Saturday with Clare and I know why I will only let her fit me for clubs. She went through everything and presented my current setup and then tried different setups but mentioned my current driver had a 1.5 smash factor and that can't be beat, so let's try to get dispersion down. At the end of the day my current setup was the best and she was honest and tweaked one setting to to help neutralize my flight and I can say for the first time I am confident in my clubs going into the new year!
Brandon T.
Enjoyed Every Minute of My Experience
November 11, 2019
I enjoyed my experience immensely! Sue O'Connor is absolutely the best and so attentive and positive and I just enjoyed every minute of my experience with you all!
Erin G.
Whole Experience Was Absolutely Outstanding
November 7, 2019
I would like to personally email you and just thank you as well as tell you how amazing Chris Thomas is and just the whole experience was absolutely outstanding. I don't know where to really start, but I guess I should just first off thank you guys for allowing me to come get fitted and just very grateful and appreciative for letting me come in.
I have to say as a golf professional and just a golf nerd I was absolutely over the moon about the whole experience and the studio you all have is by far the best setup I have ever seen or experienced. Chris Thomas was nothing short of fantastic, he was so very knowledgable and so professional it was a true honor to be fitted by someone so passionate about what he does and how he carries himself. I was surprised and very pleased how fast I got my new clubs and have already gone out and hit a few balls and very very happy with how the ball flies outside. Again I am very thankful and grateful for all the work that all your staff did and please let me know if I can ever do anything for you all! Thank you very for your time and hope you all have a wonderful and safe holiday season!
Austin W., PGA
Feedback All Positive!
October 29, 2019
My feedback is all positive!
Great experience
Very professional
Really enjoyed Sue! – Fantastic job
I was a little anxious and concerned about my level of play before I got there…..Sue made me feel very comfortable.
Bryan M.
Cool Clubs Fitter Receives High Praise
September 25, 2019
Hi,
I want to take a minute and express my sincere appreciation for Mike D'Orazio.
He did an outstanding job going through all the options available. He explained in detail the impacts of the different combinations of shafts/club heads. He never rushed through any portion of our time together. He was very knowledgeable, professional and had a real passion for what he was doing.
I wanted you to know what a great job he did. Looking forward to getting my new clubs and improving my game. Feel free to call me if you have any questions.
Tom B.
You Have a Winner!
September 20, 2019
Allen did an excellent job. He gave me a entire tour of the plant, I was left totally amazed. The fittings experience was very informative, and exact on point. Allen left no question unanswered. I have had other fittings done at the TPC in Jacksonville, Florida. Allen is by far the most professional and most knowledgeable of any fitter I have ever worked with. I will recommend Cool Clubs to any of my Students and Members that are in the area of your facilities as a must for a fitting.

My only suggestion is don't change a thing. You definitely have a winner.

Thank you for a GREAT EXPERIENCE

Take care,
Ron S., PGA Life Member
Club Fitting with Cool Clubs – "Best Investment of My Golf Career!"
March 20, 2019
I am writing to let you know how much I love my new set of custom fitted golf clubs. I have NEVER hit the ball so long, so solid, and so straight in my life. Justin did a fabulous job of fitting me for my new clubs.
My club fitting session with Cool Clubs was one of the greatest golf experiences of my life. I am still playing 4-5 days a week and I can't wait to get out on the course each morning.  Justin is a magician – a consummate professional. Every piece of advice he gave me was right on the money. I am now experiencing a totally different feel when using each club; solid and confident.    
Your club fitting sessions have elevated my game to a level I never thought possible.  My investment in the club fitting session and the purchase of the new clubs from Cool Clubs was well worth it. I am going to "spread the word" about your company and the joy you can bring to golfers. I appreciate it very much. I was very blessed to be able to meet Justin, talk with him, and get an outstanding professional club fitting at Cool Clubs.
Take care, 
Michael D.   
Beginning of a Great Relationship
December 19, 2018
I just received my clubs last night and got them on the range today. It always makes a guy happy when I've been hitting for just a little while and could hear people behind me say "holy cow, look how far that guy with the yellow stick is hitting and straight as a pin!." Yea, that boosted the ego a bit! All the clubs are awesome and tomorrow will be my first game with them. I'm sure it will be the beginning of a great relationship.
When John did my fitting I knew I would have a good size bill coming. But, I didn't care about that as much as being listened to the way John did. I was also treated with a great deal of respect. The only advice I can give is to make sure that all your fitters treat people the same way I was.
Thanks again,
Rich T.
New Clubs Help Improve a Golf Game
December 9, 2018
Received the new clubs on Thursday. Played yesterday and practiced today. LOVE THEM!!!!!!!!! Thanks so much for your help in improving my game. Looking forward much to using them for many games to come.
It's a joy to have the right clubs!
Blessings,
Red B.
Cool Clubs Gets an Oorah From a Marine Veteran
11/26/2018
Chris,
I just want to say "thank you so much" from the bottom of my Marine Corps heart! Thanks for not being a typical corprate employee or just another lacky instructor collecting money just for the sake of collecting money. I can't tell you how thankful I am for your insistence that I spend some time with a PGA instructor before you completed our session. It is refreshing to see that there are club fitters and instructors out there who are more concerned with their client's golf game improvment than they are with selling merchandise and collecting their money. I look forward to seeing you again. You are a great credit to Cool Clubs! As someone whose passion is the love of golf, I would enthusiastically recommend Cool Clubs and you every day of the week. And, twice on Sunday. God Bless.
Jack J.
Another Cool Clubs Fan Sounds Off
11/14/2018
Hi Justin,
I was able to spend a long weekend in the desert and got in 4 rounds while I was there. My highlight was on We-K-oPa's Cholla Course on Sunday. I shot an 84 and hit 11 fairways. Overall I hit about 70% of fairways for the trip. Didn't always hit it as long as during the fitting, but any decent swing was rewarded with a fairway. It was pretty windy and the fairways were generally soft, without much roll. Irons felt very stable and a decent swing provided real good ball flight. My distance was similar to fitting results, but again, hard to tell because of wind conditions. Bunker play and issues with finding the speed of the greens (along with a few bad swings?) kept my other scores in the low 90s.
Overall, I was very pleased with how things went and the ball flight I was seeing.
Thanks again for all your help and advice! I'm a big fan of the expertise and service you guys provide.
Happy Thanksgiving!
Dan M.
Handicap Index Improvement – Thanks Cool Clubs!
11/8/2018
Clare, Hope you're doing well, and I'm still thinking about popping up to have you look at my wedges.
Have now finished 20 rounds with the new irons, but not quite 20 with the new woods. Index improved from 13.4 to 12.0. I have 2 rounds in the 70s (78 and 77 at Pacific Grove) and one more round with a differential below 10 (83 at Poppy Hills, with 3 birdies, for a 9.9). Made an eagle on 18 at Baylands (driver, 8 iron to 2 feet in a stiff tailwind), lipped out an eagle putt on 9 at Shoreline (driver, hybrid to 15 feet), and almost a hole-out eagle at Pacific Grove last weekend (pitching wedge inside an inch).
Enjoying fall golf, and really enjoying the game again! Thanks so much for your help in getting me fitted!
Cheers,
Kevin F.
Full Bag Fitting Leads to More Confidence

I went to Bill for a full-bag fitting on Friday. To begin, I am an 18 handicap with many issues that go beyond poorly fitted clubs. I had no expectations with my fitting but left after 4 hours with more confidence than I ever dreamed of when I scheduled the meeting.
It was clear to Bill. To fit me appropriately, I needed several changes in fundamentals. We spent 20-30 minutes working on softening my grip and turning my hands over at impact. We worked on several drills and I was suddenly hitting the ball square. We then worked on increasing club head spread and I was driving the ball 20 yards further and straighter. It took him 40 minutes and was probably the best lesson I ever had. It just made sense. He was able to show me my swing on the simulator, show the data including speed, impact angle, etc. and show that subtle changes make a great difference. All of this in a climate-controlled environment.
The club fitting was amazing. I haven't received the clubs yet but am very excited for them to arrive. Cool clubs looks at all manufactures and shafts and fits you precisely to your swing. No more demo days swinging one manufactures stock options. In one fitting, you get to the exact club and shaft for you.
I cannot begin to express my enjoyment and pleasure in the fitting turned lesson. I recommend them unequivocally.
To conclude, the day after my fitting, I played 9 holes (I was sore after a full fitting and had to cut it to 9). I dropped 3 strokes on my average and enjoyed the consistency.
Bill B.
Lowest Score Ever With My New Driver

Thanks for your great help with club fitting a few weeks ago! I shot my lowest score ever with my new driver!
Thanks again,
Carolyn
Handicap Goes Down and Now Having More Fun

Good news – my handicap has gone down 3 points in the last 6 weeks, and I came in third in our Club Championship (gross) for my flight. It's so much more fun to play golf now. It's improved my confidence.
Many thanks for all your help in fitting, changing my clubs and making new ones. You are great! I tell everyone about Cool Clubs who asks about how I have improved.
Breaking 100 First Time Ever
I just wanted to tell you that I broke 100 for the first time today with my new clubs in my club championship tournament!
Thank you!
Player of the Year Award: Thanks Cool Clubs!
I've just been awarded my club's ladies 9-hole "Player of the Year" award, thanks to you and Cool Clubs!
Cindy
Delivering the Club Build On Time
The clubs arrived this morning in time for me to put them in the bag for today's round. Thank you (and also the production crew) for hitting the estimated finish date. Much appreciated! After playing with them today, I can say it's going to be a fun summer!!
Regards,
Shelly
Tips & Fitting Do the Trick
I was able to get out on the course today for nine holes. Putting is working GREAT. I shot 46 for the nine. And I know I can trim more off that. Your tips and fitting has made a big difference, and now I have confidence in my putting.
Thanks so much for your time & tips.
Pam N.
Building Confidence Through a Cool Clubs Fitting
Good afternoon! I hope you're doing well. I don't know if you remember Maya B., but she had a fitting about six weeks ago.
She walked away from your session not only really impressed with your staff, but she came away full of confidence. About a week later, she won her first tournament! And just last week, she stopped by to tell me that she had just shot her lowest round ever!
Just another success story! Thought you'd like to know.
Keep up the great work,
Dan B.
New 3 and 5 Woods Work Great!
I played yesterday and used the new 3 and 5 woods for the first time on the course. I was very pleased with the result, in terms of distance, accuracy and consistency. I was out-driving my playing partners – same age, more or less – with my 3 wood against their driver.
Jim
Thank you!
3/28/2017
I wanted to write and let you know how completely satisfied I am. I'm a former NCAA Division 1 golfer, played the mini tours a while, and now I compete at the amateur level. I'm not stranger to the benefits of fitted clubs. However, the level of service I received from Cool Clubs was above and beyond anything I've experienced before. I've added distance, increased accuracy, and as a result brought forth a new level of confidence that I haven't had in a very long time. Cool Clubs has gained a long time customer in me and I am referring everyone I know.
Thank you!
Calvin
Good Work!
3/15/2017
As a PGA professional, I know that service is the most important product that we can give to our members and customers. I have been thoroughly impressed the attention to detail and customer service from everyone that I have contacted or talked to at Cool Clubs. Your expertise and knowledge is outstanding and I would not hesitate to recommend you to my students for an expert fitting.
Keep up the good (excellent) work.
Sincerely,
Earl
New Driver
9/30/2016
Best $500 I've spent! You're the best. Distance, high launch, baby draw, and roll…couldn't ask for more.
Suzi
Results of your fitting
9/30/2016
Just wanted to update you on the results of your club fitting for me earlier this year. To refresh your memory, you fitted me for irons and a driver in February of this year. I didn't have time to fit my hybrids and fairway woods because my Scottsdale visit was short.
Now that I have had time to adjust to the clubs, the results have been dramatic. At the time I got fitted, my course handicap was a 9 and now it is a 6. I think that calculates to about a 30% decrease!. Last week, I actually played One Under on the front nine and One over on the back nine, so I played even par. So, instead of my traditional 8 index, I float between a 5 and a 6. I rate that as a giant and amazing improvement that I can attribute to your fitting skills, my poorly matched original equipment, and one simple swing change I finally committed to implement (known issue I have had for many years).
The clubs have given me more confidence, I rarely worry about hitting a hook, they are tremendously easy to get up in the air, my driver length is at least 20 yards longer because I feel I can swing faster and not be concerned. I probably have increased my swing speed from the mid 80's to the mid 90's because of my confidence in the clubs. I "tinker" with the loft on my M2 HL because of my increased swing speed and switching to the Bridgestone RX 330 RXS. The ball noticeably hangs in the air longer than my Pro V1's.
I didn't fit my hybrids and fairway woods, so I "self-medicated". I am hitting Ping G hybrids in their stock regular shaft and an Aeroburner 3HL with a stock regular shaft. I can carry the 3HL 180 yard over a pond in front of a par 5 on my home course. If I get down that way again, I might go in for a fitting to complete the process.
A club champions just opened in Bellevue. I made a visit, but they don't engender the same confidence I have in Cool Clubs.
Many thanks for your skills
John
New Irons
Just a follow up on the new Callaway irons. They are longer (when I take the time to hit them square) by about 15-20 yards. I hit a 5 iron well over 200 yards which was 185 with the old ones. I seem to be hitting some shots closer (go figure) than I have for along time. I find myself hitting less club but maybe because I am going after the ball I am getting better results.
Thank you.
Pete
Feedback on new clubs
I was one of your clients around mid June this year.  At that time my index was 16.4.  You set me up with a Ping driver, a 3, 5 and 7 set of Callaway fairway woods and the M2 irons.  I do not remember the shafts.
When the clubs arrived, my index did not change for about a month as I adjusted to the new clubs; however, by August 1 it was 13.6 and now the trend is 12.3.  I played two rounds last week – 79 and 77 – have not been in the 70's in several years.  In addition, I had a career high of 8 greens in regulation on the 79 and 10 greens in regulation on the 77.  Unfortunately, of those 18 possible birdies, I only made 2.  However, my tee to green game has greatly improved;  I used to be on the green in regulation only 2 or 3 times a round.
The most significant improvement commented on is that I have gotten a reputation of being "down the middle" almost all the time.  Also, whereas my drive was  200 to 220 yards, I have begun to hit about 1 out of 3 drives about 240 yards and even cranked one out 250 the other day!
Thank you for the work to set me up with a great set of clubs.  My putting will improve.  By the way, the 16 birdie putts missed probably totaled about 6 to so feet of tap ins for pars.
So Thank you and keep up the good work.
Ray
Hole in One!
I just wanted to share that I got my first hole in one yesterday using my custom fit and assembled Callaway Apex CF16 with an Aerotech Steel Fiber i80 shaft!
Couldn't have done it without you!
Thanks,
Jason
Thanks!
I have had my new clubs since the end of May and my handicap has dropped four strokes, thus far. My goal is to get into single digits…I'm currently at 10.8, so I believe I really am going to get there.
The consistency in performance of my clubs has made more of a difference than I truly expected. I'm sure I will schedule a putter and probably a long game session in the future, but for now I'm enjoying the improvement and confidence the Cool Club advantage has given me.
Again, a big thank you to you for a wonderful day fitting irons and the increased pleasure hitting shots like on TV… Well, once in a while :).
Sincerely,
Brian
Cool Clubs Atlanta
I've known Bill for close to as many years as he's run his academy, with my house being a stone's throw from his location(s). He's a great fitter, a great player (ask him about his playing resume), and has a great eye for the swing and its many nuances. What makes him unique as an instructor is his patience along with the aforementioned blend of traits – he can teach a 30 handicap all the way down to professionals, and each could learn something to get better. And, that he has a unique relationship with Cool Clubs, tons of great equipment, simulators, putting studio, TrackMan, etc? Nowhere else to go. The best!
Tom
I went to Bill for a full bag fitting on Friday. To begin, I am an 18 handicap with many issues that go beyond poorly fitted clubs. I had no expectations with my fitting but left after 4 hours with more confidence than I ever dreamed of when I scheduled the meeting.
It was clear to Bill that to fit me appropriately, there were several changes in fundamentals. We spent 20-30 minutes working on softening my grip and turning my hands over at impact. We worked on several drills and I was suddenly hitting the ball square. We then worked on increasing club head spread and I was driving the ball 20 yards further and straighter. It took him 40 minutes and was probably the best lesson I ever had. It just made sense. He was able to show me my swing on the simulator, show the data including speed, impact angle, etc and show that subtle changes make a great difference. All of this in a climate controlled environment.
The club fitting was amazing. I haven't received the clubs yet but am very excited for them to arrive. Cool Clubs looks at all manufactures and shafts and fits you precisely to your swing. No more demo days swinging one manufactures stock options. In one fitting, you get to the exact club and shaft for you.
I can not begin to express my enjoyment and pleasure in the fitting turned lesson. I recommend them unequivocally.
To conclude, the day after my fitting, I played 9 holes (I was sore after a full fitting and had to cut it at 9). I dropped 3 strokes on my average and enjoyed the consistency.
Regards,
Robert
Update – Love all the new trackman gear. I learned so much in just a short period of time at today's open house! Plus, I started the day with drives going 260 and after a couple tips from Bill and learning about my trackman numbers from Pete I cranked a few out 300+!!!! All with my current driver no less! These guys are the real deal!
Original review – If you want a golf instructor who actually listens to you and cares about your golf goals (and who is also gifted at improving your game), then look no further than Bill Baraban. It's so refreshing to have an instructor who understands who I am and who I want to be as a golfer. Combine that with with his stable of best in class video and analysis technology (the new mat measuring weight distribution is especially useful and impressive) and I can't imagine going anywhere else.
I may never take a lesson outdoors again. Bill you have made me a believer. Thanks and I can't wait to continue improving!
Thanks,
Monte
Wow!
Handicap has dropped from 11 to 9 since I got the clubs. Today I had my first eagle in over a decade! Driver – 5 Iron – PW from 115 yards out. I think some of my buddies will be calling you soon!
Best,
David
Hole in One!
Thought you should know because you made my clubs, had a hole in one! A 184 shot with the 4 Iron you fixed.
Thanks!!
Don
New Clubs Rock!!
Picked up the set of clubs you fitted for me, and I have played a few rounds with them and you were TOTALLY RIGHT!
I am having a hard time with these Bad-Boys!
The first round found me flying the green every other hole outside of a hundred fifty yards! I'm pretty sure that I could do that…when I was in High School! Those Ping Irons are terrific! I am considering forwarding my Chiropractic bill your way after hitting a few approach shots around the green with the Cleveland Wedges you added to my new arsenal. The ball flew so high that I am quite sure my neck is strained from following the ball! Cleveland ROCKS!
My drives have been finding the fairway an unbelievable number of times since rekindling my love affair with the game after a twenty five year hiatus! It's too soon to say for certain…but the last few rounds averaged a savings of about six strokes from what I was shooting before popping into your office! A few weeks 'Whack'n the Ball in the Blaze'n Sun' should improve upon that figure!
Putting! I remember me saying, "I KNOW I'm a terrible Putter!" before you did your magic in that beautiful space you get paid to hang-out at. Then you responded with your technical data and the remark, "I don't believe your a 'Bad Putter' Mike…maybe you just can't read the greens!?" I laughed so hard later that day…Bottom Line…you were Spot-On again my friend! I love the 'Two-Ball' Putter! That baby hits the ball right where I'm pointing it, (although I have to get used to the additional weight…. Once again, 'Practice will make more perfect!'
Thanks again!
Mike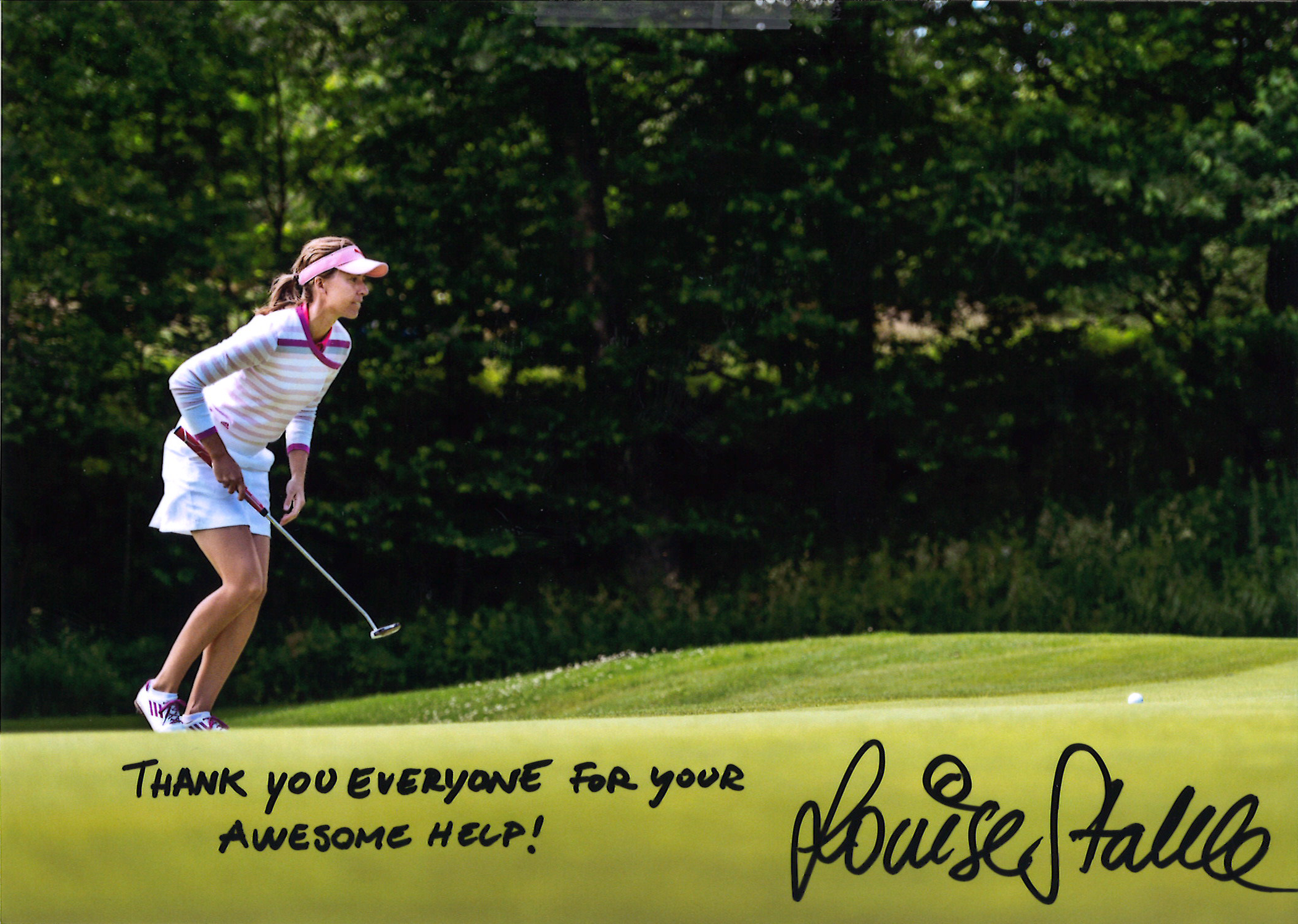 Delivered to Cool Clubs by Louise Stahle, before she departed for the LPGA European Tour.
WOW
I was fitted by Chris Thomas at your Scottsdale headquarters recently, seeing the numbers on Trackman was impressive, seeing them on the actual golf course was amazing. Hit 11 of 12 fairways with a draw or fade on command, the one fairway I missed was due to a bad swing! WOW!!
Customer Feedback Making a Champion!
To Allen,
I just started using my new golf clubs that I had purchased from Cool Clubs after a fitting with you at your headquarters. I must say that I am extremely satisfied with the performance of the clubs and the thorough professional job that you did both during the fitting process and also in the timely delivery as you had indicated.
I just won one of my local club tournaments playing with my new clubs for only the second time. I managed to finish 6 under my handicap in a stroke play event and scored a gross total of 80 which is my best score in any tournament so far. I would like to convey my appreciation to yourself and your organization for doing a great job.
Thanking you,
J
All the way from Atlanta
Dear Cool Clubs,
I wanted to express my appreciation for the Atlanta Cool Clubs with Bill Baraban's Foregolf academy. My daughter is an aspiring junior golfer with plans to play on the collegiate level. Early on I assumed the role of becoming her teacher. As anyone in the golf industry would readily understand this was an enormous undertaking. I invested my discretionary energy and time into this endeavor and as a physician relied on my back ground as a base to learn the biomechanical principles of efficient athletic movement and apply it to the golf swing  in a practical manner. More recently  the need to re-evaluate my daughters equipment fitting needs and seek out a teacher that could help her get through some persisting challenges I began to look beyond our current sphere. From a fitting perspective I investigated the market and after much study Cool Clubs remained the forerunner. Recognizing the importance of instruction in addition to properly fitted equipment the Atlanta Cool Clubs coupled with Bill Baraban's Foregolf academy was what would best benefit my daughter. It would also make sense that both organizations associating with each other were of equivalent caliber. I have since visited with Bill Baraban  and my daughter has become his student. She has visited with him twice since the new year and each lesson has been has directly identified and addressed her needs. It's a 3 hour drive to Atlanta and Bill provides a very robust lesson. As you know he is a wonderful man and I am relieved and confident in his skills to help my daughter be her best.
And with that I am very thankful to you for providing such a service of pairing instruction with equipment fitting and selection.
Sincerely yours,
Dennis